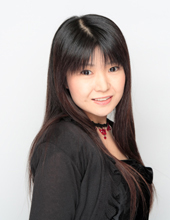 Yuki Matsuoka
 (松岡 由貴
Matsuoka Yuki
), born September 13, 1970, is the Japanese voice actor of 
Osaka
in the
Azumanga Daioh
anime
. The role was her big break. Like her character, she comes from Osaka (the Hirano-ku ward). She graduated from Otemae Women's University in Nishinomiya, and is affiliated with Production Baobab. Aside from her role in 
Azumanga Daioh
, she is best-known for playing the character Orihime from the 
Bleach 
anime and manga series. She has also had roles in
.hack//Legend of the Twilight
, 
The Melancholy of Haruhi Suzumiya 
and 
Negima!
. She is skilled in Japanese dancing and oil painting, and usually plays cute, clueless secondary characters, often similar to Osaka and popular with the fans. Her blood type is A.
Ad blocker interference detected!
Wikia is a free-to-use site that makes money from advertising. We have a modified experience for viewers using ad blockers

Wikia is not accessible if you've made further modifications. Remove the custom ad blocker rule(s) and the page will load as expected.