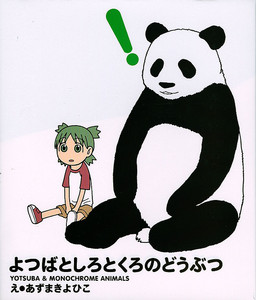 Yotsuba & Monochrome Animals (よつばとしろとくろのどうぶつ Yotsuba to Shiro to Kuro no Dō Butsu) is a 30 pages long Yotsuba&!-themed picture book by Kiyohiko Azuma, released in Japanese only on 16 December 2006 by MediaWorks. Its target audience is young children. The book is about Yotsuba interacting with black and white-coloured animals, hence the title. Each double page spread has a picture of Yotsuba and one animal on one side, and the name of the animal in Japanese and English as well as its scientific name on the other.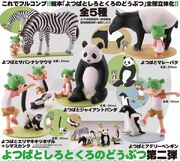 The images from the book have also been turned into minifigures made by Kaiyodo that can be purchased in Japan.
[1]
 The figures are not assembled when bought.
[2]
 A few of them were released at a time, the first five ones debuting in the fall of 2012. These were a cow, a dalmatian, a killer whale, an Abyssinian black and white colobus monkey and a Southern tamandua anteater. Motifs from the book have, in addition, been used on mugs.
Full list of animals included
Penguin
Panda
Zebra
Cow
Skunk
Killer whale
Dalmatian
Ruffed lemur
Malayan tapir
Abyssinian colobus monkey
Southern tamandua
References
Ad blocker interference detected!
Wikia is a free-to-use site that makes money from advertising. We have a modified experience for viewers using ad blockers

Wikia is not accessible if you've made further modifications. Remove the custom ad blocker rule(s) and the page will load as expected.