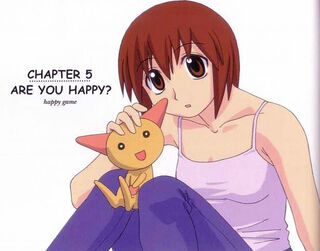 Title: Are you happy?
Published: Approximately July 1999 in Game-jin
Synopsis
Kokoro plays games and is upset by Wallaby. Then Lalilalulala shows up, shows off her new haircut, and asks Wallaby if he is happy, which he seems unsure of.
Referbacks
Kokoro plays video games again and Wallaby notes how much she seems to enjoy it, even though she said she didn't like games before.
When Kokoro says she "allows" Wallaby to use the PS, he notes that it is in fact his because she bought it for him with his money.
Earlier, Lalilalulala said she would try to turn Wallaby back into a human, and here he asks her how it's going.
Trivia
Characters
Cultural References
Kokoro plays PlayStation again.
Unanswered Questions
What kind of game it is that Kokoro is playing, featuring the bunny named Mimippi.
What words Wallaby wanted to teach Mimippi.
Why Lalilalulala cut her hair.
Memorable Moments
Wallaby remarks that the bunny video game character that Kokoro is crazy about looks like him, causing her to hit him.
Lalilalulala's mysterious visit.
Quotes

Kokoro-chan has really got into games.

— Wallaby

DON'T YOU DARE MAKING FUN OF MIMIPPI!!

— Kokoro (to Wallaby)

Oh! Did you notice it!? You did!? Just cut it a little! So!? Is it good? Is it cute? Elegant?

— Lalilalulala, asking for Wallaby's opinions on her haircut

Pinch … Ahahahaha …

— Wallaby (on the possibility of pinching Mimippi in the game)

You poor thing … How mean …

— Kokoro (when Wallaby had pinched Mimippi)
Ad blocker interference detected!
Wikia is a free-to-use site that makes money from advertising. We have a modified experience for viewers using ad blockers

Wikia is not accessible if you've made further modifications. Remove the custom ad blocker rule(s) and the page will load as expected.