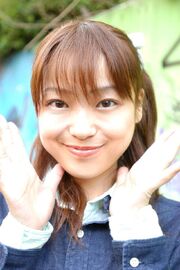 Tomoko Kaneda
 (金田 朋子
Kaneda Tomoko
), born May 29, 1973 in Yokohama, Japan, is the Japanese voice actor of 
Chiyo-chan
in the
Azumanga Daioh
anime
, which is her best-known role. She is also a J-Pop singer and radio personality. She had worked at Aoni Production for 11 years, and had worked at freelance since April 2011, and it was announced that she belonged to Across Entertainment in August 2011. She graduated from Department of Architecture, Kanto Gakuin University. She typically voices young children, due to her naturally high-pitched voice which hardly changes even if she breathes in the helium gas, according to herself. Her voice is even capable of producing sounds at a frequency beyond that of human hearing. Her height was 146 cm when she was 29 years old, but changed to 150 cm when she had become 37 years old. She is also known for appearing in 
Digimon
, 
One Piece
, 
Doraemon
, 
D.N.Angel
, 
Bobobo-bo Bo-bobo
, 
Bleach
, 
Sgt. Frog
 and 
Tokyo Mew Mew
. Her favourite colour is blue and her blood type is B.
Ad blocker interference detected!
Wikia is a free-to-use site that makes money from advertising. We have a modified experience for viewers using ad blockers

Wikia is not accessible if you've made further modifications. Remove the custom ad blocker rule(s) and the page will load as expected.