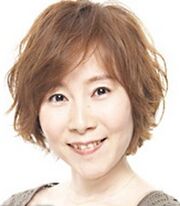 Tomoe Hanba
 (半場 友恵
Hanba Tomoe
), born June 9, 1972 in Tokyo, is the voice actor of 
Tomo
in the
Azumanga Web Daioh
short. She is known for voicing energetic girls. She works for Arts Vision. Hanba has also appeared in 
Shaman King
, 
Detective Conan
, 
Naruto
, 
Soul Eater
, 
Pokémon
, 
Bleach
, 
Hamtaro
, 
Howl's Moving Castle
, 
Mao-chan
, 
Princess Tutu
, 
Tokyo Mew Mew
 and many games. She is also known as the Japanese dubbing voice of Velma from 
Scooby Doo
. Her blood type is O, and she likes swimming.
Ad blocker interference detected!
Wikia is a free-to-use site that makes money from advertising. We have a modified experience for viewers using ad blockers

Wikia is not accessible if you've made further modifications. Remove the custom ad blocker rule(s) and the page will load as expected.