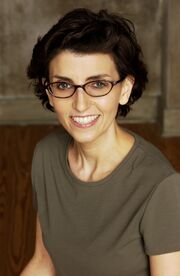 Tiffany Lynn Grant
, born October 11, 1968 in Houston, Texas, is the English voice actor of 
Kaorin
in the
Azumanga Daioh
anime
. She is known for her English-dubbing work for
ADV Films
, and later on, Funimation Entertainment, Illumitoon Entertainment and Seraphim Digital, working on anime films and television series such as
Neon Genesis Evangelion
(in which she voiced the character Asuka Langley Soryu, her most famous role),
One Piece
where she voiced Nojiko,
Noir
 where she voiced Altena, and
Martian Successor Nadesico
where she voiced Ryoko Subaru. Grant was the first actor employed by ADV Films in February 1994. Grant also enjoys work in ADR scripting, and has written the English language adaptations of over 200 TV episodes. Her first work in the field was Asuka's German dialogue in
Neon Genesis Evangelion
. She would later go on to write ADR scripts for various shows. She enjoyed her role as
Neon Genesis Evangelion'
s Asuka so much that she briefly reprised the character in the radio plays and fan-produced anime derived from the fan fiction series
Neon Genesis Evangelion: R
, as well as cosplaying as Asuka (in Asuka's familiar red EVA-02 plugsuit and her school uniform) at anime conventions. She reprised the role of Asuka in Funimation's
Evangelion: 2.0 You Can (Not) Advance
(incidentally, Asuka is her favorite role). Since 2003, she is married to producer/director Matt Greenfield, co-founder of ADV and also a voice actor, having appeared in
Neon Genesis Evangelion
as Makoto Hyuga under the pseudonym Brian Granveldt. She has appeared in anime such as 
D.N.Angel
, 
Fullmetal Alchemist
, 
Ouran High School Host Club
, 
Princess Tutu
, 
Tsubasa: RESERVoir CHRoNiCLE
, 
Kaleido Star
, 
D.N.Angel
, 
Detective Conan
, 
Fairy Tail
 and 
Mermaid Melody: Pichi Pichi Pitch
. Since childhood, she has been a fan of Bob Hope. Grant is 152 cm tall and likes the Hello Kitty brand. She has frequently appeared at anime conventions.
Ad blocker interference detected!
Wikia is a free-to-use site that makes money from advertising. We have a modified experience for viewers using ad blockers

Wikia is not accessible if you've made further modifications. Remove the custom ad blocker rule(s) and the page will load as expected.