For other uses of this name, see Kokoro (Disambiguation).
The heart is a girl's parachute (Japanese: 心は少女でパラシュート Kokoro wa Shoujo de Parachute) is one of Sakaki's character songs, which she sings in Episode 17. It is included in the album Sakaki "The heart is a girl's parachute". The song is written by Aki Hata. The music and arrangement are by Masumi Ito.
Lyrics
Japanese
Romaji
English
さみしくないみたいに

思われてる普段の 自然な態度も 時々何だか…ね つまんないことだよ

Samishikunai mitai ni

omowareteru fudan no shizen na taido mo tokidoki nan da ka...ne tsumannai koto da yo

I'm thought of as

Not seeming lonely; my usual, Casual nature is sometimes somewhat...well, A boring thing

むすんだリボンの髪

流行りのグッズ持ってたり かわいい気持ちが 誰でもあるでしょう? 私にもあるから

Musunda RIBON no kami

hayari no GUZZU mottetari kawaii kimochi ga dare demo aru deshou? watashi ni mo aru kara

A ribbon tied in your hair

And carrying fashionable goods Anyone can have cute feelings, right? Then I can, too

ひとりぼっちなんてやめようか

心は少女でパラシュート 公園で待ってたら気がついて 帰り道に(遠回りの) 寄り道とか(みんなとなら) したいのに

Hitoribocchi nante yameyou ka

kokoro wa shoujo de PARASHUUTO kouen de mattetara ki ga tsuite kaerimichi ni (toomawari no) yorimichi toka (minna to nara) shitai no ni

How do you stop being on your own?

The heart is a girl's parachute While waiting at the park, I realized On my way home (a detour) Dropping in (on everyone) Is what I want to do

「こんなの興味ないよね」

かたいイメージなのかな 誘ってほしくて 面白そうだって…ね 言い出せずためいき

"Konna no kyoumi nai yo ne"

katai IMEEJI na no kana sasotte hoshikute omoshirosou datte...ne iidasezu tameiki

"This doesn't interest you, does it?"

Do I have a stern image? I want to be invited, it sounds interesting...right? Break the ice with a sigh

仲間内のジョークで

笑われてもいいのに ちょっぴり無口が 大人に見えてるの? それだけじゃないから

Nakamauchi no JOOKU de

warawarete mo ii no ni choppiri mukuchi ga otona ni mieteru no? sore dake ja nai kara

Is it all right to laugh

At a private joke? Does being a little bit reluctant make you look like an adult? But that's not the only thing

ひとりぼっちだった今までを

変えよう勇気のパラシュート 本当は待ってるって言わなくちゃ いつもの声(聞こえてくる) 走り出そう(みんなにほら) ほほえんで

Hitoribocchi datta ima made o

kaeyou yuuki no PARASHUUTO hontou wa matteru tte iwanakucha itsumo no koe (kikoete kuru) hashiridasou (minna ni hora) hohoende

Until now I was on my own

The courage to change is a parachute I have to say the truth is waiting My usual voice (I can hear it) It's like I've begun to run (Look, everyone!) I'm smiling
In the anime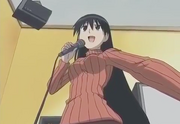 In the 17th episode of the
Azumanga Daioh anime
, the girls go to sing karaoke together and Sakaki sings this song. She impresses everybody with her beautiful singing voice, earning more praise than anyone else who is shown singing (most notably the dreadfully untalented
Yomi
).
External links