Shelley Calene-Black
, born April 30, 1979 in Fort Worth, Texas, is the English voice actor of the announcer from
ep. 15
,
Yomi
's mom from
ep. 18
,
Eiko
from
ep. 19
, and the nurse from
ep. 24
of the
Azumanga Daioh
anime
. She has worked for Funimation Entertainment/OkraTron 5000 and
ADV Films
/Seraphim Digital, known for her anime dub voices. She got into anime dubbing through theatre friends who did some work for ADV Films and urged her to audition. Aside from voice acting, she has also played live action roles, such as Maria Patterson in the Mariusz Kotowski-directed Holocaust film
Esther's Diary
(2010), as well as theatre work. Calene-Black has starred in anime such as 
Air Gear
, 
Highschool of the Dead
, 
One Piece
, 
Princess Tutu
, 
Neon Genesis Evangelion
 and 
Kaleido Star
. For her work in 2012, she won the Behind the Voice Actors award for Best Female Lead Vocal Performance in an Anime Television Series/OVA as Hamyuts Meseta in
Tatakau Shisho
. She is 160 cm tall and sometimes goes by the name 
Eileen Dover
.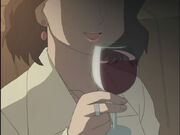 Ad blocker interference detected!
Wikia is a free-to-use site that makes money from advertising. We have a modified experience for viewers using ad blockers

Wikia is not accessible if you've made further modifications. Remove the custom ad blocker rule(s) and the page will load as expected.