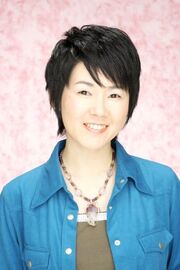 Yuki Inoue 
(井上 由起
Inoue Yuki
), born May 25, 1970 in Ōtsu, Shiga, is the voice actor of 
Yomi
in the
Azumanga Web Daioh
short. She is better known by her stage name 
Satsuki Yukino 
(雪野 五月
Yukino Satsuki
), previously spelled 雪乃 五月. Aside from being a voice actress, Yukino is a singer. She is a member of Ken Production. Yukino is best-known for voicing Kagome Higurashi, the female lead of 
InuYasha
, and a number of other roles including Mutsumi Otohime from 
Love Hina
, Yoruichi Shihouin from
Bleach
, Kaname Chidori in all the
Full Metal Panic!
series, Mion and Shion Sonozaki from
Higurashi no Naku Koro ni
and Milly Thompson from
Trigun
. She has been active since 1990. Other anime she has appeared in include 
D.Gray-man
, 
D.N.Angel
, as the main character Takiko Okuda from 
Fushigi Yuugi Genbu Kaiden
, 
Genshiken
, 
One Piece
, 
Tokyo Mew Mew
, 
Hikaru no Go
, 
Naruto Shippuden
, 
Hamtaro
, 
Pokémon
, 
Sgt. Frog
, 
Lovely★Complex
 and several games. She is known for her ability to play many different types of characters but is often cast in tsundere roles. She is 152 cm tall and her blood type is O.
Ad blocker interference detected!
Wikia is a free-to-use site that makes money from advertising. We have a modified experience for viewers using ad blockers

Wikia is not accessible if you've made further modifications. Remove the custom ad blocker rule(s) and the page will load as expected.