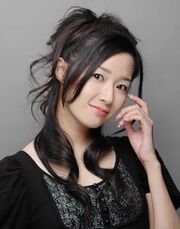 Rie Tanaka
 (田中 理恵
Tanaka Rie
), born January 3, 1979 in Sapporo, Hokkaidō, Japan, is the Japanese voice actor of 
Yomi
in the
Azumanga Daioh
anime
. She is also a singer, known for her beautiful voice, which is ironic considering Yomi's reputation as the worst singer amongst her friends. She has been active since 1997 and played many characters, most notably Lacus Clyne in
Mobile Suit Gundam Seed
and
Mobile Suit Gundam Seed Destiny
, Chi and Freya in
Chobits
, Minna-Dietlinde Wilcke in
Strike Witches
and Suigintou in the anime adaptation of
Rozen Maiden
. Tanaka is known for her wide voice range, capable of playing a vast variety of characters. She has been singing since she was a child and took classes, and performed in a number of concerts. She has a few animals such as a cat and a dog. Many of the characters she has voiced have been singers. Her English is not very good. She has released three albums. She has often sung the theme song of various anime series. Tanaka is married to the fellow Japanese voice actor Kōichi Yamadera. She has had parts in 
Air Gear
, 
D.N.Angel
, 
Gravitation
, 
Detective Conan
, 
Higurashi no Naku Koro ni Kai
, 
Pokémon
, 
Yu-Gi-Oh!
 and 
My Neighbors the Yamadas
. She is 162 cm tall and her blood type is B. Tanaka likes avocado and Indian cuisine, as well as the movies 
The Shawshank Redemption 
and 
Notting Hill
. She has also cosplayed as Suigintou from 
Rozen Maiden
, a character that she is a big fan of, and likes video games, having appeared in many herself.
Ad blocker interference detected!
Wikia is a free-to-use site that makes money from advertising. We have a modified experience for viewers using ad blockers

Wikia is not accessible if you've made further modifications. Remove the custom ad blocker rule(s) and the page will load as expected.