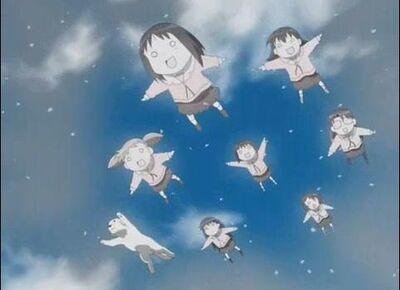 Raspberry Heaven
is the Japanese ending song for the
anime
. The song is performed by 
Oranges & Lemons
. The lyrics were written by Aki Hata, and it was composed and arranged by Yoko Ueno.
Synopsis
Chiyo and Tadakichi are walking down in a field of flowers. They turn to each other and Chiyo smiles at Tadakichi. Osaka is then seen standing alone on the field and turns her head towards the sky, smiling. Then Tomo and Yomi are seen walking next to each other, Tomo with her arms crossed behind her head and Yomi smiling at her. Thereafter Sakaki and Kaorin walk together, Sakaki turns to look at Kaorin, who freaks out and looks down. Then we see Kagura, wearing her trademark smirk with one arm in her hair and the other on her hip, her hair blowing in the wind. As the chorus begins, we see the main characters – Osaka, Chiyo, Tomo, Tadakichi, Kaorin, Yomi, Sakaki and Kagura – in chibi form flying in the sky, like a bird formation, with fascinated looks on their faces. Flower petals are flying all around them. The camera then moves to a blue clouded sky with the characters flying far in the distance, zooming out to reveal several sunlit mountain tops and a white Chiyo-chichi standing on a cliff. He turns around, his one hand held up in a greeting.
Lyrics
Japanese
Romaji
English
心に羽を持って

伝えて胸のささやき 今、風にのって

kokoro ni hane wo motte

tsutate mune no sasayaki ima, kaze ni notte

Carry the wings into your heart.

Tell him now my heart whispered in his chest. Now, its riding the wind.

心は星の彼方

願いは必ずかなう 逢いに来て その鍵は未来へ

kokoro wa hoshi no kanata

negai wa kanarazu kanau ai ni kite sono kagi wa mirai e

My heart is beyond the stars.

That wish is now granted. Love's key is the future

窓にそっと呼ぶ声は

恋の予感 そして まだ遠くの愛でも 信じてる明日を 信じてる君を

mado ni sotto yobu koe wa

koi no yokan soshite mada tooku no ai demo shinjiteru asu wo shinjiteru kimi wo

A voice is calling softly at the window.

And a vision of love appears, even though it is still far away you should believe in tomorrow.

Raspberry heaven

ひとりじゃないって 約束したね heaven Raspberry heaven 甘い涙 楽園でまた 微笑んで

Rapsberry heaven

hitori ja naite yakusoku shita ne heaven Raspberry heaven amai namida rakuen de mata hohoen de

Raspberry heaven

I promised I'm not alone in heaven. Raspberry heaven! The sweet tears, smile again at (paradise) heaven.

Raspberry heaven

迎えにきたの 優しい夢の heaven Raspberry heaven, I'm coming back to you 楽園の花 咲いた日に 君とふたり… ふたりで逢いましょう

Raspberry heaven

mukae ni kita no yasashii yume no heaven Raspberry heaven, I'm coming back to you rakuen no hana saita hi ni kimi to futari... futari de aimashou

Raspberry heaven

We'll come for you in the gentle dreams of heaven. Raspberry heaven, I'm coming back to you. When the Heaven's flowers have bloomed, You and I, we'll together...
With wings upon your soul

Convey the whispers of your heart

Now, riding the wind

Your soul beyond the stars

Your wishes will come true without fail

Come see me, that key is for the future

The voice calling softly by the window speaks of love to come and...

Even if the love is still far off

I have faith in tomorrow I have faith in you

Raspberry heaven

I promised you that you're not alone remember, heaven?

Raspberry heaven

Such sweet tears

Smile again in paradise

Raspberry heaven

I've come for you the heaven of gentle dreams

Raspberry heaven.

I'm coming back to you

On the day the flowers in paradise bloom

You and I

Let's meet.

Just the two of us.
Characters
Gallery
External links