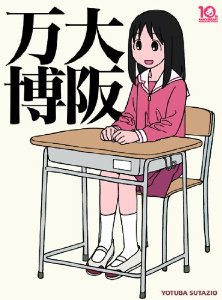 Osaka Banpaku 
(大阪万博 
Ōsaka Banpaku
), also known as 
Osaka Expo
, is a 16 chapters long
Azumanga Daioh
10th anniversary book that was published on October 27, 2009, coinciding with the release of the three volumes long repackaged version of the series containing redrawn art and additional chapters known as
Azumanga Daioh: Supplementary Lessons
. It is made by Yotuba Sutazio and was released by
MediaWorks
. 
Osaka Banpaku 
includes images of noteworthy
merchandise
released for the series, such as
Chiyo-chichi
boxers,
Maya
plushies, figures, t-shirts and much more,
Dengeki Daioh
covers by
Kiyohiko Azuma
featuring the main characters, official artwork seen on DVD covers, pages from the daily calendar and guest comics by the manga artists 
Hekiru Hikawa
, Masakazu Iwasaki, Ryoichi Koga,
Barasui
(creator of
Strawberry Marshmallow
), Dowman Sayman, Usakun, Keiichi Arawi (creator of
Nichijou
), Kashmir, Shinichi Yuuki, Saxyun, Kaduho, Masaru Kaneko, Suka, Daioki, 
Ume Aoki
(creator of
Hidamari Sketch
) and Shinofusa Rokurou. The book is 304 pages long and half of these are merchandise and fandom-related while the other half is devoted to the guest comics. The other manga artists drew yonkoma similar to the original ones and with the same characters as in 
Azumanga Daioh
, but in their own personal styles. The book is entirely in Japanese.
Ad blocker interference detected!
Wikia is a free-to-use site that makes money from advertising. We have a modified experience for viewers using ad blockers

Wikia is not accessible if you've made further modifications. Remove the custom ad blocker rule(s) and the page will load as expected.