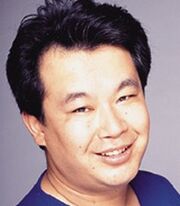 For the voice actor of several minor characters, see Naoki Yanagi.
Naoki Makishima (巻島 直樹 Makishima Naoki), born 23 August 1962 in Ibaraki, Japan, is the Japanese voice actor of a Foreigner from ep. 3 of the Azumanga Daioh anime. He likes baseball. Makishima has appeared in such anime as Fullmetal Alchemist, InuYasha, Kaleido Star, Magic Knight Rayearth, Detective Conan and Sgt. Frog.
Ad blocker interference detected!
Wikia is a free-to-use site that makes money from advertising. We have a modified experience for viewers using ad blockers

Wikia is not accessible if you've made further modifications. Remove the custom ad blocker rule(s) and the page will load as expected.