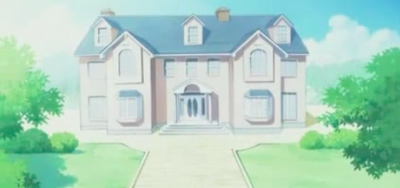 The Mihama Residence is the home of Chiyo Mihama, her parents, and their dog Tadakichi-san. It is a luxurious mansion, which impressed Chiyo's high school friends when she took them there the first time.
History
Year 1
During the first summer vacation, Chiyo's new friends all go to visit her home. They are surprised to see how extremely wealthy Chiyo's family is, though they do not get to meet her parents.
Tomo
wonders if they should have brought a melon, which is a popular gift on special occasions in Japan, because of the appearance of the Mihama family's house. Chiyo even has two rooms to herself – one where she sleeps and one where she spends her waking moments.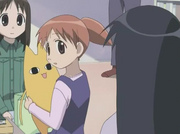 The discovery of this even made
Tomo
say that Chiyo had won the game of life. Later, Chiyo has a birthday party at her house and receives presents from the other girls, including a plushie that looks like
Chiyo-chichi
. When it is Christmas time, the group go to eat cake and have a slumber party at Chiyo's house.
Cultural festival
In the anime, the girls are also seen preparing for the cultural festival at Chiyo-chan's house, along with Kaorin. They make the costume that the mascot is supposed to wear.
Year 2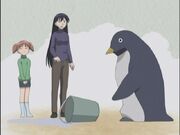 In
Sakaki
's New Year's dream, she visits Chiyo-chan's house, where she is invited to dine with Chiyo and her father, meets their penguin maid, and learns of Chiyo-chichi's hatred for red things. During the chapter and episode entirely about Chiyo-chan, we also learn of her daily habits.
The girls go to Chiyo-chan's house again for Chiyo's 11th birthday. Kagura and Sakaki make a Neco Coneco plushie for her, though it fails quite a bit.
Supplementary Lessons
In
Azumanga Daioh: Supplementary Lessons
, the girls have a study group and sleepover at the house. In the evening, they are going to watch a movie, and it is revealed that Chiyo has a real film screen at her house. Tomo admits that the movie she rented was a scary movie, and everyone goes out because Tomo is the only one who wants to watch it. But she pretends to be dead so that the others will join her, which they eventually do.
Year 3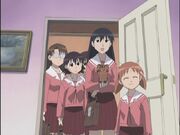 With the college entrance exams approaching, the gang often gets together at Chiyo-chan's house to study, since classes are now optional. Chiyo gives lessons to
Osaka
and the others in preparation for their tests. Osaka often falls asleep while snuggling under the kotatsu, and on one of those occasions, she dreams about meeting Chiyo-chichi. Sakaki visits Chiyo's house a lot during this year, because her new pet
Maya
is currently staying there and he is often at their study sessions together with Tadakichi-san.
Trivia
Chiyo's parents are never seen around the house, for unknown reasons.
The mansion has two floors and is close to Sakaki's house.
Ad blocker interference detected!
Wikia is a free-to-use site that makes money from advertising. We have a modified experience for viewers using ad blockers

Wikia is not accessible if you've made further modifications. Remove the custom ad blocker rule(s) and the page will load as expected.