For other uses of this name, see Masaki (Disambiguation).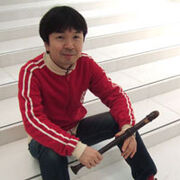 Masaki Kurihara (栗原 正己 Kurihara Masaki) is a Japanese composer and arranger most famous for composing Azumanga Daioh Original Soundtrack, Volume 1 which was used in the Azumanga Daioh anime, and the Yotsuba&!-themed music CDs Yotsuba&♪ and Yotsuba&♪ Music Suite (General Winter), however he is an experienced anime composer in general. He composed music for Azumanga Daioh: The Very Short Movie as well. Kurihara is, since its foundation in 1994, a member of the Kuricorder Quartet, where he is a soprano recorder and plays melodica, crumhorn as well as various other instruments. Their style is a mix of jazz, folk, blues, classical, medieval, funk and more. Masaki Kurihara has written tunes for over 500 TV commercials. Sometimes he plays Electric Bass Ex.DATE COURSE PENTAGON ROYAL GARDEN led by Naruyoshi Kikuchi and other bands.[1]
References
Ad blocker interference detected!
Wikia is a free-to-use site that makes money from advertising. We have a modified experience for viewers using ad blockers

Wikia is not accessible if you've made further modifications. Remove the custom ad blocker rule(s) and the page will load as expected.