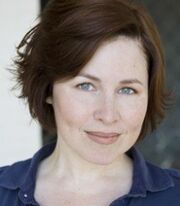 Louisa Michelle "Luci" Christian
, born March 18, 1973 in Hamilton, Texas, is the English voice actor of 
Yukari
in the
Azumanga Daioh
anime
. She is an ADR script writer at Funimation/OkraTron 5000 and
ADV Films
/Seraphim Digital and is known for her anime and video game voices. She frequently plays hyper or energetic teenage girls, but has a wide voice range. She also works for Sentai Filmworks. Her parents were high school teachers, and while she has been interested in theatre since high school, she originally considered becoming a journalist. She got her Bachelor's degree in Theatre from Angelo State University and her Master of Fine Arts in Theatre at Louisiana State University. Christian's involvement in anime started in Houston with ADV films, getting parts in
Those Who Hunt Elves 
and thereafter 
Neo Ranga
. She later starred as Kaname Chidori in 
Full Metal Panic!
, 
Super Gals! 
and 
Prétear
. Since then she has been connected to Funimation, appearing in 
Fullmetal Alchemist
, as Tenma Tsukamoto in 
School Rumble 
and Asuna Kagurazaka in 
Negima!
. The American Anime Awards nominated her for Best Actress for her work in
Princess Tutu
, where she voiced the main character, and Best Actress in a Comedy for her work in
Desert Punk
,
Negima!
and
Nerima Daikon Brothers
in 2007. Nowadays, she is best-known as the new Funimation voice actor of Nami from 
One Piece 
and also voiced Nagisa Furukawa in 
Clannad
. Other roles of hers include 
D.N.Angel
, 
Kaleido Star
, 
Air Gear
, 
Tsubasa: RESERVoir CHRoNiCLE
, 
Ouran High School Host Club
, 
xxxHolic
, 
D.Gray-man
, 
Sgt. Frog
, 
Hetalia: Axis Powers
, 
Soul Eater
,
Detective Conan
, 
Black Butler
, 
Fairy Tail 
and 
Highschool of the Dead
. She has also appeared on-camera in commercial and film work and has been involved in television, radio, industrial and e-learning. She is married to Michael Bell and has two children. Christian is 156 cm tall.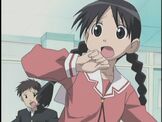 Ad blocker interference detected!
Wikia is a free-to-use site that makes money from advertising. We have a modified experience for viewers using ad blockers

Wikia is not accessible if you've made further modifications. Remove the custom ad blocker rule(s) and the page will load as expected.