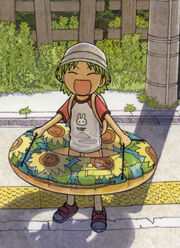 Kodomo Usagi (子供ウサギ, Japanese for Baby Bunny) is a fictional brand appearing in the world of Yotsuba&!. The unknown maker of the brand produces T-shirts featuring its trademark bunny, as well as sketchbooks, both frequently used by Yotsuba. The target audience of the brand appears to be small children like her.
The brand also appears once in Azumanga Daioh: Supplementary Lessons where Tomo wears a T-shirt identical to that of Yotsuba's.
In Japan, real-life Kodomo Usagi T-shirts were for sale at a Yotsuba&! art gallery celebrating the 10th anniversary of the concept, starting with the Try! Try! Try! one-shot from 2001. The exhibition ran from March 8th, 2011, to March 20th.[1]
Gallery
References
Ad blocker interference detected!
Wikia is a free-to-use site that makes money from advertising. We have a modified experience for viewers using ad blockers

Wikia is not accessible if you've made further modifications. Remove the custom ad blocker rule(s) and the page will load as expected.