For the anime director, see Kiyotaka Ohata.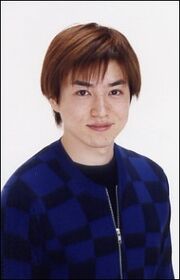 Kiyotaka Furushima
(古島清孝
Furushima Kiyotaka
), born April 19, 1979 in Tochigi Prefecture, Japan, is the Japanese voice actor of a male student from
ep. 15
of the
Azumanga Daioh
anime
. After passing through the Haikyō Voice Actor's Studio, he became a member of the Tokyo Actor's Consumer's Cooperative Society. He has a high baritone voice. He is most well-known for voicing Shinji (Paul) from 
Pokémon 
and Jetras from 
Engine Sentai Go-onger
. He also voiced Ash's Buizel and Jessie's Yanma and Yanmega in both the Japanese and English versions of
Pokémon
. He currently appears in the "Best Wishes" series where he voices Jessie's Woobat and Iris's Excadrill in the Japanese version of the anime, and has also worked on 
Bleach
, 
Mermaid Melody: Pichi Pichi Pitch
 and 
Kaleido Star
. He is 168 cm tall and skilled in calligraphy.
Ad blocker interference detected!
Wikia is a free-to-use site that makes money from advertising. We have a modified experience for viewers using ad blockers

Wikia is not accessible if you've made further modifications. Remove the custom ad blocker rule(s) and the page will load as expected.