Kaze no Mon-Ami (Japanese: 何月〜亜美風の), is one of Kaorin's character songs. It is included in the album Azumanga Daioh Character CD Series Vol. 8 Kaorin.
Lyrics
Japanese
Romaji
English
日射しの合図に駆けてくる

Ah!元気な子猫たち 見つめるあなたの目にふわりと 朝の笑顔

Hizashi no aizu ni kakete kuru

Ah! genki na konekotachi Mitsumeru anata no me ni fuwari to Asa no egao

Underneath a spotlight of sun they run to you

Ah! fiesty kittens In your eyes as you gaze at them Is a gentle morning smile

そっけない程のためいき

憧れは胸の奥に 明日も揺れる時間 愛しでていたい

Sokkenai hodo no tameiki

Akogare wa mune no oku ni Ashita mo yureru jikan Aishite itai

A short sigh

The longing deep in my heart Time swaying again tomorrow I want to stay here and love you

風にそっとMon-Ami

優しいこんな日々が ずっと続くように 未来へと always I miss you

Kaze ni sotto Mon-Ami

Yasashii konna hibi ga Zutto tsudzuku you ni Mirai e to Always I miss you

Mon-Ami, gently in the wind

May such kind days Continue on forever Into the future always I miss you

最初はドキドキ会うたびに

Ah!近くでうつむけば 広がる世界を待つ心に 空の合図

Saisho wa dokidoki au tabi ni

Ah! chikaku de utsumukeba Hirogaru sekai wo matsu kokoro ni Sora no aizu

In the beginning my heart pounded everytime we met

Ah! when I was near you, and I looked down In my heart, waiting for the world to unfold Was a spotlight from the sky

流れる髪にゆっくり

だいじな思い預けて 明日に願う言葉 小さなハッピーエンド

Nagareru kami ni yukkuri

Daiji na omoi azukete Ashita ni negau kotoba Chiisana happiien

Slowly in your flowing hair

I've entrusted a precious feeling Words I wish for tomorrow A little happy ending

風はきっとMon-Ami

心通り過ぎた 甘い夢だから 静かだね まだ夢ね?

Kaze wa kitto Mon-Ami

Kokoro tobisugita Amai yume dakara da ne mada yume ne?

The wind is surely Mon-Ami

As it passed my heart It was a sweet dream So it was quiet - is it not yet a dream?

風にそっとMon-Ami

優しいこんな日々を ずっと夢見てた いつまでも always I miss you

Kaze ni sotto Mon-Ami

Yasashii konna hibi wo Zutto yume miteta Itsumademo Always I miss you

The wind is surely Mon-Ami

I've always dreamed of such kind days Going on and on always I miss you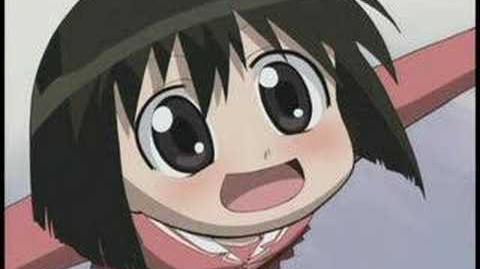 External links
Ad blocker interference detected!
Wikia is a free-to-use site that makes money from advertising. We have a modified experience for viewers using ad blockers

Wikia is not accessible if you've made further modifications. Remove the custom ad blocker rule(s) and the page will load as expected.