The Japanese language uses a broad array of honorific suffixes for addressing or referring to people. These honorifics are gender-neutral (can be used for males and females), though some are more used for men or women and can be attached to first names as well as surnames. Using an honorific is generally required when referring to someone, but in some cases it can be dropped or must not be used.
This is a list of some common honorifics and their usage in Kiyohiko Azuma's series.
Chan
Chan (ちゃん) is a suffix used to refer to younger people, particularly girls, or someone who has a lower ranking than yourself. It is also endearing and often indicates that something is cute. Using it when talking to an authority, or someone you barely know, is considered very rude. Similarly, using no honorific in such a situation would also have a very negative effect. It is also the only suffix which was used in the English dub of the Azumanga Daioh anime, when characters were referring to Chiyo.
People associated with this suffix
Chiyo
Chiyo Mihama from Azumanga Daioh is always called Chiyo-chan by fellow students and teachers. This is because Chiyo is five years younger than her classmates and seen as very cute. She doesn't use it much herself, except for when talking to Tomo.
Tomo
Tomo Takino is normally referred to as either Tomo or Tomo-chan, a nickname which she even uses herself. Calling oneself -chan is very uncommon, and would normally be regarded as strange. She also has a tendency to use it when talking to teachers or even drop the honorific altogether, at least with her friends.
Osaka
Ayumu "Osaka" Kasuga calls all her friends this, probably a sign of her feeling close to them.
Sakaki
This is sometimes used to apply to Sakaki as well once she displays her true nature, mostly by Osaka and Tomo.
Yukari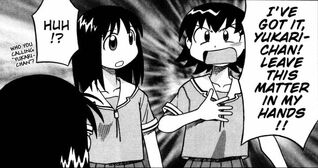 Yukari Tanizaki
is an unconventional teacher, and her students feel close enough to her to call her by her given name (as in "Yukari-sensei"). But Tomo goes as far as to call her
Yukari-chan
. This is rude since Yukari, in being a teacher, is an authority figure and she initially takes offense when Tomo starts this habit.
Minamo
Minamo Kurosawa is more often called by her last name than Yukari, but once Yukari's students in Class 3 find out about her nickname being Nyamo, they start using it. In addition to this, Tomo calls her Nyamo-chan, which is an extremely informal and impolite way of talking to a teacher.
Yuka
Chiyo refers to her friend Yuka with this suffix. Why she doesn't use it for Miruchi as well is unknown.
Yotsuba
Since Yotsuba Koiwai is a five-year-old child, everyone calls her Yotsuba-chan, except for Koiwai and the family friends, who just use her given name without a honorific.
Fuuka
Probably because of Fuuka Ayase being younger than himself, Koiwai calls her Fuuka-chan.
Kokoro
Kokoro Kosaka from Wallaby tells Akira "Wallaby" Warabi to call her Kokoro-chan as she thought it would fit a stuffed animal to use more informal language, which he agrees to.
Emi
Emi from the above series is also referred to as Emi-chan, since she is still a child.
San
San (さん) is the most common suffix and the equivalent to miss and Mr although it is used even more frequently than those honorifics in Japan. It is a polite way to address anyone, both of lower and higher ranks than yourself. In the English dub of Azumanga Daioh, this suffix is replaced by "miss" or "Mr".
People associated with this suffix
Chiyo
Chiyo most often uses -san when referring to her friends. When she receives a high school diploma by the principal in the very end, he calls her Chiyo Mihama-san.
Osaka
Though Ayumu Kasuga is most often called simply "Osaka", people initially used Kasuga-san when talking to her (for example Yukari and Tomo). When she gets her nickname, Chiyo continues this habit by calling her Osaka-san. Osaka doesn't use the honorific much herself, except when referring to Sakaki before they knew each other very well.
Sakaki
Since Sakaki is a person always met with respect and even fear, people tend to call her Sakaki-san, at least in the beginning. Particularly Kaorin is prone to using the suffix.
Minamo
Minamo Kurosawa is most often called Nyamo, especially by Yukari, but she has been known to use Minamo-san on occasion.
Tadakichi
The Mihama family's dog is named Tadakichi-san (Mr. Tadakichi in the English dub).
Asagi
Koiwai uses this about Asagi Ayase. It could be because of her being closer to himself in age than her sisters.
Kokoro
The polite Akira Warabi starts off by calling his classmate Kokoro Kosaka Kosaka-san, which she later disputes, leading him to be happy about how the change in honorific might indicate a closer relationship.
Warabi
The angel Lalilalulala uses this suffix when referring to Akira Warabi.
Lalilalulala
Lalilalulala is in turn called Lalilalulala-san or Lalila-san by Wallaby.
Kun
Kun (君【くん】) is a suffix used by persons of senior status when referring to people of junior status. It is also commonly used to apply to young boys, but is otherwise gender-neutral. Females can use it when referring to a male to whom they have a particular emotional connection. Younger females can also be called this by older males of senior status in business settings.
People associated with this suffix
Minamo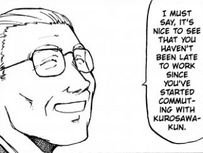 Minamo Kurosawa is referred to as this by
Goto-sensei
, an example of an older male calling a younger female employee "-kun".
Warabi
Akira Warabi from Wallaby is most often called "Wallaby" or Warabi-kun by Kokoro, indicating Kokoro's fondness for her deceased male classmate.
Sensei
Sensei (先生 【せんせい】) is a suffix used to refer to teachers, professionals or other authority figures. Much like "-san", this honorific is replaced by miss and Mr in the English dub of Azumanga Daioh.
People associated with this suffix
Yukari
Yukari Tanizaki is generally called Yukari-sensei by her students, which is more informal than the usual Tanizaki-sensei, but still indicates some level of respect.
Minamo
Minamo Kurosawa is often called Kurosawa-sensei by students. But after spending a few summer vacations with her, Yukari's Class 3 students start using her nickname, and a few of them, such as Osaka, call her Nyamo-sensei.
Kimura
Kimura, also a teacher, is normally called Kimura-sensei or simply Kimura by students. An exception would be him suggesting to Kaorin she start calling him by the nickname "Kimurin".
Goto
Goto is another teacher at the Azumanga Daioh high school, to whom the honorific is also applied (as in Goto-sensei). He is also the only character in the series to use "Tanizaki-sensei" when referring to Yukari (except for Nyamo who also used it in one scene).
Ishikawa
Ishikawa is a teacher in Azumanga Daioh about whom not much is known, but who seems to teach English. Usually called Ishikawa-sensei, his or her tests are known for being difficult.
Oneechan and oneesan
Oneechan (お姉ちゃん) is a suffix that means "older sister" but is also applied to older females by younger children. Oneechan is a less formal version of "oneesan" – the latter is more respectful while the former is more endearing. The shorter "neechan" may also be used.
People associated with this suffix
Miura
Miura Hayasaka from Yotsuba&! refers to herself as "oneesan" in one chapter, which is quite uncommon. This causes Yotsuba to start laughing as if it would be impossible for her to use such formal language when talking to Miura.
Kokoro
Kokoro is called Kokoro-oneechan by her younger relative Emi.
Senpai and kohai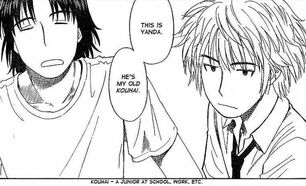 Senpai (先輩 【せんぱい】) or sempai is used by people when referring to older colleagues at school or in sports clubs. Only older students (in higher grades) are called senpai. Kohai (後輩 【こうはい】) is a corresponding word which means junior, but it is not used as an honorific.
People associated with this suffix
Yanda
Koiwai refers to his friend Yanda as "kohai", hinting that they might have attented the same school at some point, but it is still unconfirmed and it only indicates that Koiwai is older than Yanda.
Kimura
When Yukari and Nyamo appear dressed in their old uniforms on one occasion, Kimura inexplicably turns up wearing a boys' uniform and handing Yukari what seems to be a love letter, calling her senpai as if she were an older student than himself.
Chiyo
When she starts her second year in high school, Chiyo asks a first year student to call her Mihama-senpai since she is tired of being treated like a kid.