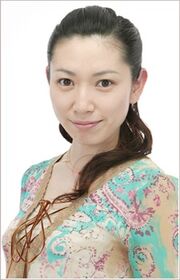 Hōko Kuwashima
 (桑島 法子
Kuwashima Hōko
), is the voice of
Kagura
. She is a seiyū and singer born December 12, 1975 in Kanegasaki, Iwate Prefecture, Japan. She is capable of playing a variety of roles, ranging from young boys to feminine women. Kuwashima is currently affiliated with Aoni Production. Her given name,
Hōko
(法子), is sometimes misread as
Noriko
, even in Japan. This may be due to the fact that
Noriko
is another valid reading of 法子, as seen in the name of Noriko Sakai, a famous Japanese actress. Her voice acting career began in the middle '90s. She is known for often voicing characters that die in the story.
[1]
She gives off a very Japanese formal and serious feeling when with others.
[citation needed]
She is affiliated with Aoni Production. Other anime she has appeared in include 
Bleach
, 
Chobits
, 
D.Gray-man
, 
Detective Conan
,
Fullmetal Alchemist
, 
InuYasha
, 
Sgt. Frog
, 
One Piece
, 
Dr. Slump
, 
Pokémon
 and 
Soul Eater
. She has also appeared in several video games. Her blood type is A.
References
Ad blocker interference detected!
Wikia is a free-to-use site that makes money from advertising. We have a modified experience for viewers using ad blockers

Wikia is not accessible if you've made further modifications. Remove the custom ad blocker rule(s) and the page will load as expected.