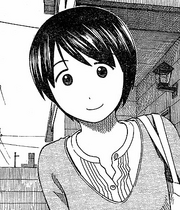 Hiwatari (日渡), better known as "Miss Stake" (しまうー Shimaū), is a classmate of Fuuka's and one of her best friends.
She first met Yotsuba when Yotsuba visited her and Fuuka's school in chapter 40, but is not officially introduced until chapter 45 when she comes to Fuuka's home and meets Yotsuba there. At first, Yotsuba does not remember her, but Hiwatari reminds Yotsuba of her visit to the school and Yotsuba recognizes her as "Fuuka's buddy". She comes to help Fuuka bake a cake in preparation for the cultural festival.
Hiwatari's nickname "Miss Stake" (her given name is unknown) is derived from her introduction to the class on her first day of school, when she made a mistake and said "Nice to miss you" instead of "Nice to meet you". Ever since then, everyone has called her Miss Stake.
In the original Japanese version, Hiwatari's nickname is "Shimau". Instead of the standard Japanese greeting "Yoroshiku onegaishimasu" (よろしくお願いします), roughly meaning "I look forward to working with you", she greets the class with, "Yoroshiku onegaishimau" (よろしくお願いしまう).The verb ending shimau in Japanese is used to express regret, hence her unfortunate nickname.
Miss Stake is an easy-going, slightly eccentric person. She has a short, dark, bob-style haircut, and is skinny in physique. She seems to be a bit spontaneous. For example, when she and Fuuka were going to bake the cake, Miss Stake bought a chef's hat on the spur of the moment just for the occasion (which Fuuka seemed to think was a bit unnecessary). Like Fuuka, Miss Stake is easily scared off by bugs.
Relationships
Fuuka
Fuuka is one of Miss Stake's best friends at school, and together with Yotsuba they have been baking cake, picking chestnuts and celebrated Halloween. Miss Stake made fun of Fuuka because she had dressed improperly for chestnut picking, and seems to consider herself an expert on the area.
Yotsuba
Like most people Yotsuba meets, Miss Stake tries hard to satisfy Yotsuba's needs. When Yotsuba went to their school's cultural festival and desperately wanted "real cake with strawberries" instead of the pound cake Miss Stake's class were selling, Miss Stake along with her classmates got really concerned and focused on finding a solution. Finally Miss Stake bought Yotsuba a crêpe with cream and strawberries, and Yotsuba remarked that it was good but not cake.