For the voice actor of a background character, see Hiroyuki Takigawa.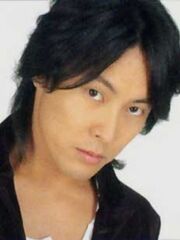 Hiroyuki Yoshino
 (吉野 裕行
Yoshino Hiroyuki
), born February 6, 1974 in Chiba Prefecture, is the Japanese voice actor of 
Ohyama
(as well as a starter from
ep. 6
, "Baseball Boy" from
ep. 10
, Blue Three from
ep. 13
, "Male Student" from
ep. 23
, and "Male Student B" from
ep. 12
) in the
Azumanga Daioh
anime
. He has also appeared in 
Bleach
,
Fullmetal Alchemist
, 
Hunter x Hunter
, 
InuYasha
, 
Love Hina
, 
The Prince of Tennis
,
School Rumble
, 
Soul Eater
,
Highschool of the Dead
, 
Pokémon
, 
Hikaru no Go
,
Shugo Chara!
, 
Shaman King
, 
Revolutionary Girl Utena
 and in various games. His blood type is B. He loves soccer, sports games in general and computer games. He tends to play ordinary high school students, often bishōnen characters.
Ad blocker interference detected!
Wikia is a free-to-use site that makes money from advertising. We have a modified experience for viewers using ad blockers

Wikia is not accessible if you've made further modifications. Remove the custom ad blocker rule(s) and the page will load as expected.