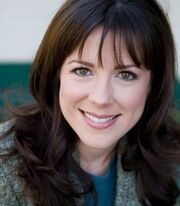 Hilary Haag Scarborough
, born on December 3, 1973 in San Antonio, Texas, is the English voice actor of 
Chihiro
in the
Azumanga Daioh
anime
. She worked for
ADV Films
/Seraphim Digital and lives in Houston, Texas. She has also worked for Amusement Park Media and Warner Bros. She is married to David Scarborough. She has attended Lamar Consolidated High School and went on to study English Rhetoric at Texas A&M University. After college, she lived in Los Angeles for almost 2 years, but later moved back to Houston where she grew up and currently lives. She has a unique, child-like voice. She has also appeared in 
D.N. Angel
, 
Princess Tutu 
and 
Air Gear
. She is 157 cm tall and likes playing psycho anime characters. Her primary career is working as a salesperson for a paycheck company, and she has also appeared on stage in various regional theatre productions.
Ad blocker interference detected!
Wikia is a free-to-use site that makes money from advertising. We have a modified experience for viewers using ad blockers

Wikia is not accessible if you've made further modifications. Remove the custom ad blocker rule(s) and the page will load as expected.