In Japan, students generally attend high school from ages 15 to 18, during a total of three years. While attending is optional, a rough 92% of lower-secondary school graduates choose to enter upper-secondary school. Students usually wear uniforms every day to school. Every class has their own home room and home room teacher. Activities such as athletic festivals and cultural festivals are often incorporated in the students' education. The school year begins in the spring instead of in the fall like in many Western countries, and ends during late winter season. There are three main breaks in the school year: summer break, winter break and spring break. After the spring break, a new school year begins.
The high school theme is frequently used somehow in the works of Kiyohiko Azuma.
In Azumanga Daioh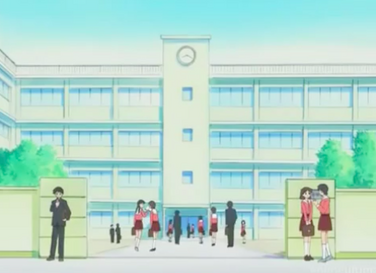 The main characters of the manga and anime series
Azumanga Daioh
attend or work at an unnamed high school in Japan. They started in April 1999 and graduated in March 2002.
[1]
[2]
[3]
The location of the school is unknown in the manga, though in the anime it is located in Tokyo. The name of the school is not revealed either. The school accepts both girl and boy students, but initially it was an all-girls' school.
[4]
Territory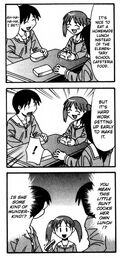 The school houses several different home rooms where students go to class. Outside of the school, there is a pool for P.E. lessons and swim team practice, and changing rooms. There are also running tracks for students to use during P.E. and the annual sports festival.
A school cafeteria exists too, seemingly for all students to use regardless of grade. The students bring their own lunch, as shown when Chiyo expressed delight that she didn't have to eat the grade school cafeteria food anymore. However, they do not seem to usually make their lunch themselves, seeing as Chihiro was shocked that Chiyo took such responsibility on herself (or she may also have reacted that way simply because of Chiyo's age).[5] Some food may be produced by the school, though, as a lunch lady once gave Chiyo extra food in an attempt to make her eat more.
The students are given disposable chopsticks to eat with, that Ayumu Kasuga loves to play with.[6] As mentioned in the anime, the school has its own library too.
Employees
Principal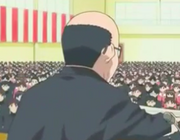 The principal of
Azumanga Daioh
is a black-haired, middle-aged man who is not seen much around the school, except at the very end, when
Chiyo
receives an award for outstanding academic achievements. He gives a speech to the graduating students.
Teachers
Yukari Tanizaki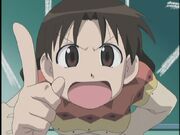 Yukari Tanizaki
is an English teacher and the homeroom teacher of Class 3, during all of their three years of high school. She has very unconventional methods and is rather close to her class, as seen by the fact that they address her by her given name. She tends to act like one of the kids herself ever so often. When she was younger, she was also a student of the high school.
Minamo Kurosawa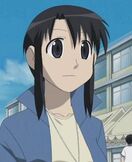 Minamo Kurosawa
is a physical education teacher and the homeroom teacher of Class 5. Lateer on, she is the homeroom teacher of Class 2. She is well-liked by students and fellow teachers alike and has a friendship/rivalry with her former classmate from high school, Yukari Tanizaki.
Kimura
Kimura
is a teacher of classical literature. He is the homeroom teacher of Class 4. He only became a teacher so he could be close to high school girls and is thought to be very creepy by most people who meet him, but he is admired by the boys. He has a tendency to show up every time anyone is talking about or doing something that he might find interesting.
Goto
Goto
teaches an unknown subject and has known Yukari and Minamo ever since they were his own students back when they were in high school. According to him, Yukari has changed disappointingly little since then.
Students
Class 3
Class 3 is the class that the main characters of the series are from. Their homeroom teacher is Yukari Tanizaki.
Class 5
The only known student to have attented class 5 is Kagura. Her homeroom teacher was Minamo Kurosawa.
Class 2
Class 2 is the class that Minamo Kurosawa is the homeroom teacher of during the main cast's second two years of high school. She is well-liked by her students and they give her birthday presents twice.
Class 4
Their homeroom teacher is Kimura. His only named student is Kaorin, during her last year of high school. Yukari Tanizaki walked in their home room by mistake on her first day as the new teacher of Class 3 and embarrassed herself.
Subjects
English
The teacher of this subject is Yukari, despite everything, she can speak the language fluently. According to Chiyo, her tests were "interesting".
Mathematics
While the main cast are never seen attending this class, they frequently have math homework, and tests. They also study math for the college entrance exams.
Physical Education
The teacher of this subject is Minamo. It involves gymnastics and sports as well as swimming at the school pool.
Classical Literature
Kimura teaches this subject, but it is not known what the course incorporates, besides reading passages from books out loud.
Home Economics
The students are only seen attending this class in the anime, which involves cooking and baking as well as sewing. Chiyo makes stuffed animals shaped like a Neco Coneco and Chiyo-chichi.
Music
In the anime, the students play instruments in this class, such as Osaka playing a flute insuccessfully since she had the hiccups.
Computer Science
There is also a computer class at the school. It is unknown exactly what the students get to do, besides using a computer, which was something entirely new to Chiyo-chan.
School Uniforms
The school uniform worn by the main characters is a sailor fuku for the girls and a gakuran for the boys. The summer sailor fuku is blue in colour, and the winter uniform is light red (dark pink in the anime).
There is also a special P.E. uniform – a white T-shirt and gym shorts for the girls, white T-shirt and thigh-length shorts for the boys.
School Events
Cultural festival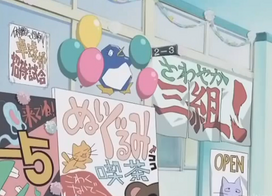 For their two first years, the students participate in the cultural festival. Every class makes up their own exhibition, available for all students to view on the day of the festival. Classic ideas include a haunted mansion or a coffeehouse, though the main characters from
Azumanga Daioh
only use the latter, combined with their initial idea of a stuffed animal exhibit.
Athletic festival
The students take part in the athletic festival, or sports festival, during all three years of high school. All classes compete against each other, and it includes a large number of events.
Events in the sports festival
Tug-of-war
Ball roll
Ball toss
Obstacle course
Scavenger hunt
Relay race
Cheerleading
Three-legged race
Folk dance
Bread-eating race
Costume race
Cavalry battle (anime only)
Marathon
At the school, the students run a marathon once, with the last man standing serving as sole victor. How long the marathon is exactly is unknown, but it can be assumed that it's lengthy, since it even managed to wear Sakaki out.
School trip
In the main characters' third year of high school, they go on a school trip to Okinawa. Yukari Tanizaki, Minamo Kurosawa and Kimura's class participated. It is unspecified if the school trip is an annual event and if it only concerns seniors, or students from other grades as well.
School clubs
Astronomy Club
Kaorin is a member of this club, and invited Sakaki to it, though she made the assumption that Sakaki wouldn't be interested even though she actually was. Kaorin says that they do research on stars, talk about outer space, and go stargazing. They also go on club trips at least twice over summer vacation, which is why Kaorin couldn't join the other girls when they went to Chiyo's summer house the two first times. It is unknown if there also was a club trip during Kaorin's third year of high school, and in that case, why she didn't go.
Swimming Team
The school also has a swimming team, coached by Minamo Kurosawa. The team even has practice during summer vacation. Kagura is a very devoted member of this club and usually gets a tan during the summer due to her extensive training in the school's outdoor swimming pool. The swimming team had their own exhibition during the first cultural festival. Kagura also advertised for the swim team, recruiting new members, in her third year. Tomo offered to join, since she wanted to learn how to swim, but Kagura turned her down (to Tomo's surprise).
In Yotsuba&!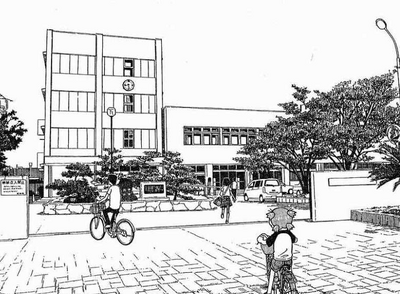 There is a high school near the house of
Yotsuba
and
Koiwai
's in
Yotsuba&!
, the name of which is unknown.
Students
School uniforms
Cultural festival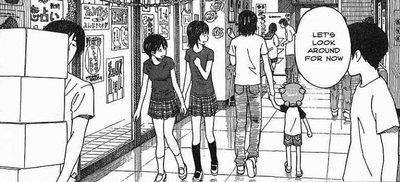 There is also a cultural festival at the school, which Yotsuba visits. Much like in
Azumanga Daioh
, one class makes a haunted house and Fuuka's class makes a café. Other exhibits made by the school include a photography exhibition and crêpe, yakisoba and choco-banana selling booths. Since Yotsuba was really disappointed in the pound cake sold to her by Fuuka,
Asagi
commented that the only ones who had fun with a culture festival were the students themselves.
In Wallaby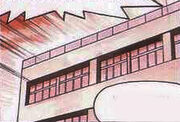 The two main characters of
Wallaby
attend yet another unnamed Japanese high school. They also show up at the cultural festival in
Azumanga Daioh
.
Students
Subjects
Home Economics
This was the class where Kokoro made the stuffed doll that is now Wallaby's current body.
English
The teacher of this subject is someone named Chiyama, whom Kokoro seems to despise.
School uniforms
References