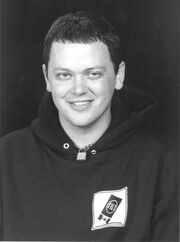 Gregory Scott Ayres
, born December 7, 1968 in Richmond, Virginia, is the English voice actor of "Male Student 2" from
ep. 1
of the
Azumanga Daioh
anime
. He works at at Funimation Entertainment/OkraTron 5000 and
ADV Films
/Seraphim Digital. He is also a singer who sang the 4th opening of 
Dragon Ball Z Kai
, and a popular night club and anime convention DJ. He is known to have a multi-talented and charismatic personality and is a big fan of anime, having attended countless conventions. He often changes the color of his hair and tends to voice young boys, due to his unusually high-pitched voice. Besides 
Azumanga Daioh
, he has appeared in 
D.N.Angel
, 
Fullmetal Alchemist
, 
Negima! 
as the main character Negi Springfield, 
Air Gear
, 
One Piece
, 
School Rumble
, 
Tsubasa: RESERVoir CHRoNiCLE
, 
Ouran High School Host Club
, 
xxxHolic
, 
Fairy Tail
, 
Highschool of the Dead
, 
Neon Genesis Evangelion
, 
Detective Conan
, 
Sgt. Frog
, 
Princess Tutu
, 
Hetalia: Axis Powers
 and in video games such as 
Dragon Ball 
and 
One Piece: Unlimited Adventure
. He is sometimes called "Bam-Bam".
Ad blocker interference detected!
Wikia is a free-to-use site that makes money from advertising. We have a modified experience for viewers using ad blockers

Wikia is not accessible if you've made further modifications. Remove the custom ad blocker rule(s) and the page will load as expected.