Eiko (栄子 Eiko) is an anime-exclusive Azumanga Daioh character who only appears in the one filler episode. Eiko is an old acquaintance of Nyamo and Yukari's, probably from their student days. Eiko has gone on to become a successful businesswoman who impresses the teachers with how grown-up she seems, in contrast to them. Eiko is a chief executive officer who offers Nyamo a job as a gym instructor at her company, a job which would have given Nyamo far greater income, but she turns it down because she loves her current job. Eiko met with the teachers at a restaurant (she seems to have arranged the set-up with Yukari) and also invited some male co-workers of hers to join them and it went quite well, though Yukari ended up scaring them away and the teachers concluded that they might have been too childish for the men.
Eiko is rather pleasant and polite in personality, with a formal manner of speech. She has medium-length light brown, wavy hair and her face is never fully shown, except from the side and at a distance, for reasons unknown. Since her only appearance is in episode 19 and she is absent from the original manga, it is likely that she was invented by that particular episode's script writer, Hajime Satsuki, unlike most of the other characters who are created by Kiyohiko Azuma.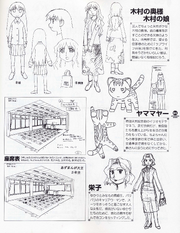 Voice actors
Japanese
English
Ad blocker interference detected!
Wikia is a free-to-use site that makes money from advertising. We have a modified experience for viewers using ad blockers

Wikia is not accessible if you've made further modifications. Remove the custom ad blocker rule(s) and the page will load as expected.