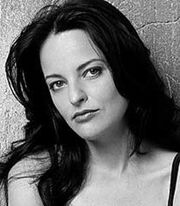 Christine McPeters Auten
, born May 7, 1969 in Huntsville, Alabama, is the English voice actor of 
Sakaki
in the
Azumanga Daioh
anime
. Other than being a voice actress, she is an ADR Director and ADR Script Writer. She works for Funimation Entertainment and formerly
ADV Films
. She is known for her English voices of anime characters. She lives in Austin, Texas with her husband Andrew Auten. Other anime she has worked on include 
Air Gear
, 
D.N.Angel
, 
Fullmetal Alchemist
, 
Negima!
, 
One Piece
, 
Ouran High School Host Club
, 
Princess Tutu
, 
Kaleido Star
 and 
xxxHolic
. She is 160 cm tall, ironically since her character Sakaki is known for her impressive height. She also likes camping.
Ad blocker interference detected!
Wikia is a free-to-use site that makes money from advertising. We have a modified experience for viewers using ad blockers

Wikia is not accessible if you've made further modifications. Remove the custom ad blocker rule(s) and the page will load as expected.