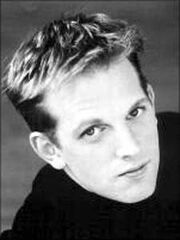 Christopher David Patton
, born March 15, 1971 in Houston, Texas, is the English voice actor of "Male Student 1" from
ep. 1
, and the starter from
ep. 6
of the
Azumanga Daioh
anime
. He works at Funimation Entertainment/OkraTron 5000 and
ADV Films
/Seraphim Digital. Chris Patton is known for his anime dub roles, and has attended the Mayde Creek High School and University of Houston School of Theatre. His voice has also appeared in commercials, audio books, video games, narration and eLearning software projects. Patton has also appeared in 
Fullmetal Alchemist
, 
D.N.Angel
, Kaleido Star, 
Negima!
, 
Air Gear, One Piece
, 
D.Gray-man
, 
Soul Eater
, 
Highschool of the Dead
, 
Tsubasa: RESERVoir CHRoNiCLE
, 
Pani Poni Dash!
 and 
Princess Tutu
. He is also known for his live theatre work. He is sometimes called 'Stopher and is 191 cm tall. He is a long-time vegetarian.
Ad blocker interference detected!
Wikia is a free-to-use site that makes money from advertising. We have a modified experience for viewers using ad blockers

Wikia is not accessible if you've made further modifications. Remove the custom ad blocker rule(s) and the page will load as expected.