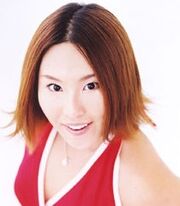 Chieko Higuchi
(樋口 智恵子
Higuchi Chieko
), born January 30, 1981 in Tokyo, is the Japanese voice actor of 
Tomo
in the
Azumanga Daioh
anime
. She is also a singer. She has been active since 1996 (before she had graduated from high school) and has often played tomboys. She voiced the character Takako Takahata in 
Mizuiro Jidai 
and since then, she has appeared as the female lead in 
Kero Kero Chime
, in 
To Heart 
and as the main character Marco from the film 
3000 Leagues in Search of Mother 
(which
Sakaki
referred to in the 
Azumanga Daioh 
manga). Other roles of hers include Yūko Atoda in 
Ah My Buddha
, 
Pani Poni Dash!
, 
The Prince of Tennis
and 
Sugar Sugar Rune
. She is 154 cm tall (same height as Tomo), and her blood type is B. She is interested in billiards and shopping.
Ad blocker interference detected!
Wikia is a free-to-use site that makes money from advertising. We have a modified experience for viewers using ad blockers

Wikia is not accessible if you've made further modifications. Remove the custom ad blocker rule(s) and the page will load as expected.