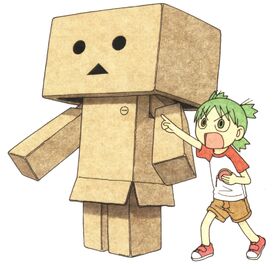 Cardbo
 (ダンボー
Danbō
, 
Danbo
in
Yen Press
' translation) is a box robot that
Ena
and
Miura
made out of cardboard boxes for a school project in
volume five
, in the chapter "Yotsuba and Danbo" (Chapter 28). Miura uses Cardbo to fool
Yotsuba
into thinking that Cardbo is a real robot, by standing inside it and doing its talking. Yotsuba admires Cardbo a lot, as she thinks it is really cool to have a real talking robot friend. Cardbo runs on money, making it an environmentally friendly robot, and it can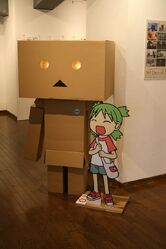 fly up to superhuman speeds and shoot missiles. It also has a device with eyes that light up when you press a switch on the side of its head. It is from a far away country and had to fly to get to Japan where it is now living in Miura's bedroom. In the chapter "Yotsuba and Reunions" (Chapter 69), in
volume 10
, when Yotsuba went to Miura's house and found Cardbo lying lifeless beside her bed, Miura explained it away by saying that Cardbo was dead. That made Yotsuba tear up, so Ena and Miura "brought it back to life" through a ritual of resurrection, which Yotsuba was not allowed to look at. Ever since then Cardbo is alive, much to Yotsuba's satisfaction.
Trivia
The name Cardbo is a combination of the words "Cardboard" and "Robot" (Miura made up the name), while Danbo comes from the word "Danboru", which means corrugated cardboard in Japanese. On Azuma's website, Cardbo is referred to as either Danbo or "Danboard".
Since 2007, Kaiyodo has been making action figures of the character, causing it to become well-known over the Internet as a hero of many photo shoots. One famous photo shoot is "365 Days of Danbo" by Arielle Nadel.[1] In fact, the image hosting and video hosting website Flickr returns over 30,000 photos tagged "Danboard".[2] The character has since become an internet meme and has spawned a lot of merchandise, including electronic gadgets.
An anime spin-off based on the character, Nyanbo!, aired from September 27, 2016 to March 28, 2017.
This page uses content from Wikipedia. The original article was at Danbo (character).
The list of authors can be seen in the page history. As with Azumanga Daioh Wiki, the text of Wikipedia is available under the Creative Commons License. But please try to change as it won't match the page taken from Wikipedia.
References