Welcome to the Azumanga Daioh, Wallaby and Yotsuba&! Wiki
Helping out
This wiki currently needs help with:
You can add info anonymously or log-in and gain the ability to upload images, blog and see less ads.
Featured Article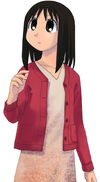 Ayumu Kasuga more commonly known as Osaka is a transfer student from Osaka, Japan. Tomo Takino, expecting her to act like the stereotypical Osakan—loud, like a hillbilly, chose for her the nickname "Osaka", although her behavior could not be more different. Some Osakans considered her "slow" and "spacey" - but she lacks the energy or motivation to dispute it. Ayumu was the first to ever lose a race against Chiyo Mihama. (Read more)
Polls
If possible, would you want a Yotsuba&! anime?
Ad blocker interference detected!
Wikia is a free-to-use site that makes money from advertising. We have a modified experience for viewers using ad blockers

Wikia is not accessible if you've made further modifications. Remove the custom ad blocker rule(s) and the page will load as expected.