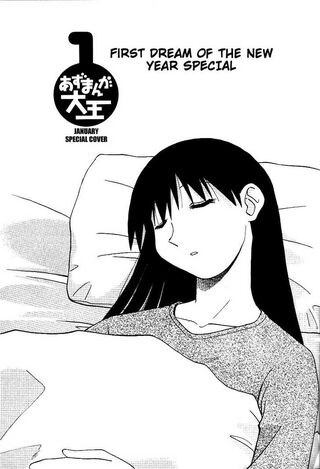 Title: January Special: First Dream of the New Year
Published: Approximately February 2001 in Dengeki Daioh
Synopsis
Welcome
Who?
Gotta clean
What should I do?
Invitation
What should I do?
Tomatoes
Red
Advice
More
Feelings
What happens
Referbacks
In Sakaki's dream, Chiyo has a maid who is a penguin. This might be because Chiyo dressed up as a penguin during the second cultural festival.
Sakaki confesses to Chiyo-chichi that she wishes she were shorter and that cats didn't hate her, like we know from previous chapters.
Chiyo-chichi appears to be angry with Sakaki because she came up with the idea of making a hat shaped like his face during the cultural festival.
Trivia
Characters
Cultural References
Unanswered Questions
Chiyo flies to greet Sakaki, but it is unknown from where she flew.
What Chiyo-chichi has against red things.
We do not get to see Chiyo's reply to what's currently popular at school.
Osaka says "hi again" to Chiyo-chichi. It is not known when they met before.
Memorable Moments
Chiyo-chan's rather worthless maid who seems to make a bigger mess than she cleans up. According to Chiyo, her brain stops working sometimes.
Sakaki's and Chiyo's dinner with Chiyo's father.
Osaka wakes up Sakaki in a strange way (in her dream).
Quotes

We'll be serving something red … But I do hope you will join us.

— Chiyo-chichi (to Sakaki)

I don't care if you like them or not. You will eat your tomatoes.

— Chiyo-chichi (to Chiyo)

By the way, I heard you made a hat of me last year. And you never even okayed it with me.

— Chiyo-chichi (to Sakaki)

A-are you sure you're not angry?

— Sakaki (to Chiyo-chichi)
Ad blocker interference detected!
Wikia is a free-to-use site that makes money from advertising. We have a modified experience for viewers using ad blockers

Wikia is not accessible if you've made further modifications. Remove the custom ad blocker rule(s) and the page will load as expected.