Azumanga Daioh Puzzle Bobble
 (あずまんが大王 Puzzle Bobble 
Azumanga Daiō Puzzle Bobble
) is a game based on the 
Azumanga Daioh
anime and manga which was released by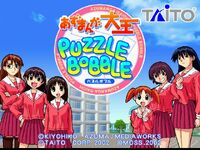 Taito Corporation as an arcade-only Puzzle Bobble spin-off on June 1, 2002. It was developed by MOSS for the Sega NAOMI GD-ROM arcade and distributed in Japan exclusively. It also has a two-player mode and the original
voice actors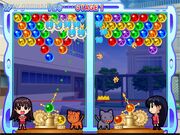 from the 
Azumanga Daioh 
anime
reprise their roles. It is controlled using one joystick and two buttons.
[1]
Trivia
This game takes place during second year after Episode 12.
Gallery
Artwork Gallery
References
Ad blocker interference detected!
Wikia is a free-to-use site that makes money from advertising. We have a modified experience for viewers using ad blockers

Wikia is not accessible if you've made further modifications. Remove the custom ad blocker rule(s) and the page will load as expected.