Course Discussion / Pray for Success / Fight! / Study Session / Tomo and Osaka's Day of Fate
(Japanese:
「進路相談」 「合格祈願」 「ファイト」 「勉強会」 「ともと大阪 運命の日」
) is the twenty fifth episode of
Azumanga Daioh
.
Plot
With the entrance exams nearby, everyone is focused in it, except for
Tomo
, who would rather ask wordplay questions to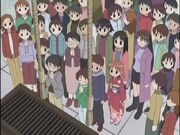 stump
Chiyo
. They are outmatched when
Osaka
manages to answer all questions correctly and cluelessly. Chiyo tells Osaka she could possibly become a school teacher, after the latter is concerned for a suitable career.
Yukari
, after being consulted by Osaka, chews Chiyo out for feeling insulted. All the girls gather at
Chiyo's house
to study. On New Year's Day, the girls assemble at the shrine to pray for their success in the entrance exams. Tomo is mortified to get bad luck foretold for the upcoming year. Ironically, upon meeting Yukari and
Nyamo
, the former tells them that the son of the shrine priest did not pass his entrance exams, rendering all fortunes useless. Before their entrance exams, Osaka comes up with a superstition to allow all the girls to pass, in that they each must split a pair of chopsticks perfectly in half. Chiyo, in turn, gives them all lucky charms she handcrafted. At another study session at Chiyo's house, she muses about how fast their
high school
period passed by them, and they are about to graduate.
Sakaki
and
Kagura
manage to pass their exams, but Tomo and Osaka do not. However, they still have another chance to make it, and thanks to Chiyo, they eventually do. With that, there is only a violently resolute
Yomi
left to pass her own exams.
Adapted From
Referbacks
Trivia
Characters
Cultural References
Unanswered Questions
Memorable Moments
Quotes

You talk as if you're not even a part of it! You've got exams too, don't you?

— Yomi (to Tomo)

So, if I go study abroad, I won't have to take entrance exams either! I'm the smartest person ever!!

— Tomo

I bet you would raise students who were flexible thinkers!

— Chiyo (to Osaka)

Well, then let's pick a rally point. Everyone, if you get lost, meet up at Sakaki!

— Tomo

A ¥10 coin, Osaka? That's pretty lame. You'll fail at this rate.

— Yomi

Yeah, you're probably just doomed, Tomo.

— Yomi

[Didn't you] know that the son of that shrine went and failed to get into college. They won't help you.

— Yukari (to the girls)

Let's take this chance to do it together. And get terrible scores!!

— Tomo (on the centre exams)

Y'all are just too sceptical! Lookie here. I'm gonna show ya how to do it.

— Osaka (on splitting chopsticks cleanly)

We said it. You gotta hold 'em by the ends! It's no good! Listen to what people tell ya! Argh!!!

— Osaka (to Tomo, on the chopsticks)

These questions are kind of boring! Yukari-sensei's tests are more interesting than this. YOUR INTELLIGENCE CANNOT BE MEASURED BY THESE PROBLEMS!! Please, don't let it discourage you!!

— Chiyo (to Tomo)

There are some times when I wish I were a BIRD!!

— Chiyo-chichi

Well, assuming nothing happens and we do GET to graduate!

— Tomo

You say that so cheerfully!

— Yomi (to Tomo)

Sakaki's breasts've grown too!

— Osaka

That's your answer? She's your student! You really should remember these things, you know!?

— Nyamo (to Yukari, on Kagura)

But this school … This was supposed to be my safety net!

— Osaka (after failing an exam)

Don't be in such a hurry to die!

— Kagura (to Chiyo, after she said she would stake her life on the fact that Tomo and Osaka would get into college)

Do [veterinarians] take care of beetles as well?

— Osaka (to Sakaki)

I DON'T NEED YOUR SYMPATHY!! I've still got my main choice left. And don't worry, I'm GONNA be accepted there!! Then I'm gonna have LOTS of fun!! WITH EVERYONE!!

— Yomi (to Tomo)