Shopping / Gathering / Sea! / Capturing Strategy / Adult's World
(Japanese:
「おかいもの」 「集合」 「うみー!」 「捕獲作戦」 「大人の世界」
) is the fourteenth episode of
Azumanga Daioh
.
Plot
Chiyo
invites
Tomo
,
Yomi
,
Sakaki
,
Osaka
,
Kagura
, and even
Yukari
to her
summer house
. Chiyo and Osaka discover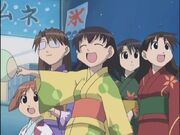 that two people should not ride on the same bike. They meet up with Tomo, who is shopping for an awesome swimsuit. Osaka confuses the escalator with the elevator, due to the similarity in names. Sakaki arrives early the next morning so she can wait with Mr.
Tadakichi
. Chiyo had asked her father to rent a van for the group, since Chiyo was traumatized from riding in
Yukari's car
the previous summer. After arriving at the summer house, Tomo grabs the key from Chiyo and throws it into the nearby woods. When Chiyo finds the key, Yomi has Sakaki restrain Tomo to allow Chiyo to open the door. At the beach, Yomi takes requests for drinks. By the time Yomi is back with Osaka's orange juice, Osaka's swim ring has drifted far from shore. Sakaki sculpts a
Neco Coneco
figure in the sand, but the artwork is destroyed when Osaka returns ashore. Everyone changes into their yukatas for the summer festival.
Nyamo
does not know how to put on a yukata, yet is able to tie a necktie, according to Yukari. Sakaki wins a Neco Coneco toy at a shooting gallery and Kagura declares her a sniper, stating that she killed the toy, which upsets Sakaki. Back at the summer house, Yomi tells Tomo that sleeping and awaking early will profit in the long run. When Yukari brings out sake, Nyamo takes it upon herself to drink it to prevent Yukari from getting drunk. After drinking half the bottle of sake and several cans of beer, Nyamo answers Tomo's question concerning adult relationships. The next morning, Chiyo wants Nyamo to clarify what she said to Tomo, Yomi, Osaka, and Kagura, all of whom seemed very thankful for what they have learned the previous night, but Nyamo is shocked upon hearing this.
Adapted From
Azumanga Daioh Volume 2/Chapter 21
Referbacks
When Osaka mentions that they are returning to Chiyo's summer home, she references their previous trip there.
Chiyo is hesitant about inviting Yukari because of last year's trauma with the Yukarimobile.
The year before, Tomo requested watermelon smashing, but they did not have a bat – this year, however, Chiyo kept that in mind and brought one.
Kurosawa gets bothered by Tomo calling her "Nyamo", a habit probably picked up from Yukari.
Trivia
Characters
Cultural References
Chiyo phones all her friends about the trip.
Sakaki's stuffed animals are shown at her house.
Osaka picks up tissues from people on the street – it is common to hand these out in Japan as advertisement because people use them so frequently in the country. People trying to promote their business or cause often hand out packets of tissue with their info printed on the plastic wrapping instead of flyers. Packets of tissue are more likely to be kept, since they are useful, especially in a world where public bathrooms rarely provide either toliet paper or ways to dry your hands.
When Chiyo tries to tell Kagura that she is no longer scarred from her Yukarimobile experience, she gets a syllable wrong. Her final syllable in Japanese should have been "Yo", but she says "Jo". Chiyo saying "Jo" here shows that she is still not entirely normal when reminded of that incident.
The girls practice the Japanese tradition of watermelon smashing at the beach. Kagura smashes it instead of Tomo, causing the latter to start crying.
Nyamo and Yukari have a discussion on the beach, where Nyamo tells Yukari that raw ham with melon is better than sweet and sour pork with pineapple. The idea here is that raw ham with melon is much higher in class combination than sweet and sour pork with pineapple in terms of both price and elegance. In addition, there are some people out there who dislike having pineapple in sweet and sour pork, while raw ham with melon is a more accepted combination.
Tomo says she plans to catch a lot of goldfish once she gets to the summer festival. One of the common activities that can be found at a festival is indeed "goldfish scooping". Basically, the participant is given a bowl with some water in it and a wire hoop with paper covering the hoop, so it forms a kind of paddle. The challenge is to use this paper scooper to catch goldfish out of the tub they are swimming in without the paper breaking from becoming wet. Generally, these goldfish are not healthiest of fish and rarely last long once they have been brought home. Even so, releasing them into the sea would be rather cruel, considering they are freshwater fish. This is why Sakaki objects to her idea.
When it is time to go to the festival, it turns out that only Chiyo and Sakaki can tie yukata (summer kimonos). It takes a bit of practice or training (six hours of lessons or so) to put on kimonos properly. While yukata are generally simpler, it still takes a bit of experience to get it to look right, especially the bow in the back. Lessons in learning to put kimonos on properly are one of the traditional lessons a bride-to-be should have taken. Other lessons of this sort include how to conduct tea ceremonies and flower arrangements.
The girls go to a summer festival, wearing traditional yukata outfits. The ones the girls are wearing should not be mistaken with the yukata that can be found in inns and hotels, which are meant for sleepwear. The sleepwear kind of yukata is made of much simpler and less refined material. The type of yukata meant to be worn outside to festivals and such range in price, with the cheapest being around ¥3,000 to the more expensive ones costing ¥30,000 or more. Often, accesories such as the sash, wooden clogs and handbags can cost another ¥10,000 or so.
Tomo calls Yukari "Yukarin", a nickname formed in the same way as "Kaorin" (Kaori being her real name).
While Nyamo is sharing her adult relationship experiences with the girls, the Kaminarimon is shown. This is the main gate to Sensoji temple in Asakusa.
Unanswered Questions
How Yukari found out about the girls' trip.
Which colour Tomo wanted for her bikini.
Why Osaka was so anxious to get on the escalator.
How Osaka had got lost previously when on her way somewhere, as she implies in this episode.
What Kimura was doing at the train station.
Whom Nyamo was previously interested in that Yukari teases her about here.
From where Tomo got the alcohol she wanted them to drink.
What exactly Nyamo told the girls.
What Chiyo asked Nyamo in the morning that disturbed her so.
Memorable Moments
Osaka's endeavor with the tissues that she has such a hard time refusing, resulting in her donating them in the end.
Osaka and Chiyo's discussion about the difference between escalators and elevators.
Chiyo renting a van to avoid Yukari's horrible driving, only to push her away from the driver's seat when Yukari suggests she will drive the van.
Tomo throws the key to the house in the grass when Chiyo warned her about the trouble that would follow if that happened.
It turns out that only Chiyo and Sakaki know how to put on a yukata (summer kimono), embarrassing the others – especially the teachers.
Chiyo and Osaka question the practicality of turtle scooping and whether someone needs a turtle.
Nyamo drinks a lot of alcohol brought by Tomo and Yukari, becoming drunk enough to give her students a sex ed lesson.
Quotes

Are you bragging? You're bragging, aren't you!? Oh, classic! Maybe you think you're going to enjoy a nice bourgeois summer all by yourself, but I'm not gonna let you, dammit! Take me with you!! [pleading] Come on, take me with you!!

— Tomo (to Chiyo, when she invited her to her summer house)

You say that, but it's kinda hard to refuse 'em!

— Osaka (when Tomo said she shouldn't accept all the tissues)

I know it! I do know which one is which, Chiyo-chan! Don't you make fun of me! So the box-shaped one is an escalator. But that's where I get all mixed up an' … ngggh … let me think!!!

— Osaka

Yeah. I'll just wait … with Tadakichi-san.

— Sakaki (to Chiyo, when told she was there early)

Ahhhh … what bliss.

— Sakaki (on sitting with Tadakichi-san under a tree)

It makes you look like someone who plays it real loose, like some kinda playgirl!

— Osaka (to Kagura, on her tan)

See, Chiyo-chan rode in it last year and was deeply psychologically scarred for life.

— Tomo (to Kagura, on the Yukarimobile)

She doesn't speed too much, but there are times she goes too fast and other times incredibly slow! Yukari-sensei really should check her sides more often, and behind, please, Yukari-sensei, please look behind you too!! And sometimes I get the feeling she doesn't even see the traffic lights or pedestrians!!!

— Chiyo (to Kagura)

If only there weren't any club activities, I could be at the beach with Sakaki-san right now!

— Kaorin

If I were to lose this key right now, we wouldn't be able to get inside the house!

— Chiyo (to her friends)

Heeeey, haven't you guys found it yet!? What's the deal??

— Yukari (during the search for the key)

If I like found the key and threw it again, it'd be totally hilarious!!

— Tomo (to Yomi)

[Sighs] I'm worried about the rest of the trip!

— Chiyo

Long ago, back when Nyamo was all lovey-dovey, this woman used to practice on me every day … knotting and straightening neckties!! Oh yeah!

— Yukari (to the girls)

Hey hey hey, did you do that thing where you pull the sash and twirl around, huh?

— Tomo (on Kagura's new yukata)

Don't try to do it all just because you see it!

— Yomi (to Tomo, on the summer festival events)

Well, when you think about it rationally, you don't really need turtles, huh.

— Osaka (to Chiyo)

Awesome, you did it, Sakaki!! You totally took down that Neco Coneco!! You hunter, you, you crazy sniper!!!

— Kagura