Equation for Victory / Sakaki of Class 3, Kagura of Class 5 / Runaway Victory / Yay / Dancing the Grand Finale
(Japanese:
「勝利の方程式」 「三組の榊、五組の神楽」 「ぶっちぎり」 「わーい」 「踊る大団円」
) is the sixth episode of
Azumanga Daioh
.
Plot
The athletics carnival is soon approaching.
Yukari
tells her class to only think about winning, especially against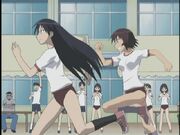 Nyamo
's class, promising them juice if they win. On the day of the athletic carnival's arrival, Yukari attempts to sabotage Nyamo's star student,
Kagura
, by offering her an anpan, but she is caught by Nyamo in the process.
Sakaki
defeats Kagura in the 400 meter dash.
Chiyo
and
Osaka
have poor teamwork in the three-legged race and constantly falls onto their faces. Nyamo's class defeats Yukari's class in the tug-of-war. Since Chiyo claims she has not done anything to help the rankings of her class, she is assigned to be a cheerleader. Sakaki closely wins the baton relay over Kagura. Afterwards, the school participates in a folk dance together.
Kaorin
is delighted when she gets to dance with Sakaki. However, her mood quickly reverses when she gets
Kimura
as her next partner. Because Yukari's class won the athletics carnival, Nyamo gives Yukari ten thousand yen. Nevertheless, Nyamo takes the money back due to money Yukari owes her, as the latter escapes the situation of being unable to pay for juice for her class.
Adapted From
Azumanga Daioh Volume 1/Chapter 08
Referbacks
Trivia
Characters
Cultural References
Unanswered Questions
Memorable Moments
Quotes

What on earth are you talking about? We're in the middle of class!

— Kimura (to a male student, when asked if boys should be tucked in)

You have to beat Sakaki-san. Sakaki-san's good at any and every sport, there's no way you can win! [dreamily] Ohhhh!! I just know she's going to be totally cool out there!!!

— Kaorin (to Tomo)

Hah! Then I'll just have to compete with my cuteness!!

— Tomo (to Kaorin)

FIRST PLACE!!!!!!

— Kimura, during the opening ceremonies; this was his entire speech

In any case, think about winning no matter what!! You are free to use whatever means you feel are necessary!!

— Yukari (to her class)

WHAT!? NO FAIR!! THAT'S CHEATING, YOU BIG FAT CHEATER!!!!

— Yukari (to Nyamo, when told her class also had a star athlete)

Okay, everyone!! Now listen up! We win today no matter what! Don't get any soft ideas that the sports fest is just a game and drag everyone down.

— Yukari (to her class)

Oh! That 10,000 you borrowed? I'll take it back thank you.

— Nyamo (to Yukari)