Nyamo / Factional Rivalry / Yukari's Here / Not My Fault / Forever and Ever (Japanese: 『にゃも』 『派閥闘争』 『ゆかりがきた』 『悪くないもん』 『どこまでも』), is the third episode of Azumanga Daioh.
Synopsis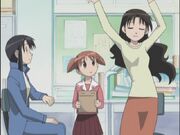 Yukari invites Minamo "Nyamo" Kurosawa to go to a local bar after work, while Chiyo receives her swimsuit from Nyamo. It is no sooner that Chiyo tells Tomo, Yomi, and Osaka that Yukari and Nyamo are actually alumni of the school. Yukari is jealous about Nyamo being more popular among her students, which urges her to convince her class to play basketball in an attempt to boost her own popularity. Nyamo joins in the game and easily defeats Yukari, winning admiration from the students. Yukari later pays a visit to Nyamo, using construction work at her place as an excuse to catch up on sleep. When Nyamo receives a delivery from her uncle in Hokkaido, Yukari mistakes the package as food, when only a wooden bear sculpture is found inside. After the two argue, they end up breaking the sculpture apart. On their way to a local bar, they encounter a foreigner, whom Yukari is able to talk fluently with. At the local bar, Yukari appears to be unable to use chopsticks. Nyamo teaches her how to use them and shows off her skills. Frustrated and jealous, Yukari drinks herself drunk and falls asleep. Nyamo helps Yukari back to her house.
Adapted From
Referbacks
The girls discuss how Chiyo can impossibly have any friends she's been with since the beginning, as she has skipped so many grades.
On the package that Kurosawa receives, there is a picture of a cat that strongly resembles Kamineko.
When Osaka tells Tomo and Yomi that she'll never forget them, they ask her if she will be transferring again, in reference to how she transferred to Tokyo in the first episode.
Trivia
Characters
Cultural References
Minamo Kurosawa asks Yukari to organize her desk better and give back a dictionary she had borrowed.
Two Class 3 boys who are discussing which teacher they prefer are approached by Yukari, leading one of them into saying he likes Yukari better, after which the other calls him a comedian.
Yukari convinces her class to participate in an athletic competition because she notices how they prefer Kurosawa to her.
Yukari buys Kurosawa a cola, only to shake it when she looks away and ending up getting the drink splashed in her face.
The delivery truck that pulls up to Kurosawa's home is painted like a Kuroneko Yamato delivery truck. Kuroneko literally means "black cat". Their logo is an adult black cat carrying a black kitten in its mouth.
Kurosawa getting a bear sculpture, which Yukari attempts to exchange for food by making a phone call. She says that when you think of Hokkaido, crabs, sea urchins, and salmon stew come to mind. These are all specilaties of Hokkaido. 
Unanswered Questions
Why Kurosawa needed a dictionary.
What kind of stories concerning the girls' old teachers that were withheld from them due to blackmailing.
Why Osaka wanted her team to be named "Team Sea Slug".
What Yukari thinks makes her a chicken.
When Kurosawa has seen Yukari's bad luck with drinking previously.
Memorable Moments
Minamo Kurosawa, nicknamed "Nyamo", who had a speaking role in the previous episode but went unnamed, is formally introduced.
Yukari talks about drinking beer while Chiyo is in the room.
Tomo tells the story of when Yomi left some bread in her desk that become moldy; the story becomes implausible when she states the mold mutated and became sentient.
The two teachers' display their rivalry, which causes them to find themselves in ridiculous situations.

As an aside, most of the episode is focuses on Yukari and Nyamo, with the other main characters appearing for only 25% of the episode (most notably, Sakaki is completely absent, this episode being her only absence in the whole anime).

Yukari and Nyamo's run-in with a foreigner, which is a case of benevolent stereotyping of gaijin (foreigners).
Yukari and Nyamo go out for drinks, resulting in the former getting way too drunk. Outside the restaurant, Yukari proceeds to vomit (censored by a white background with the show's logo and Chiyo riding Mr. Tadakichi).
Quotes

That's really incredible, Tomo! I don't have anyone that's been with me since I was in grade school.

— Chiyo (upon hearing that Yomi and Tomo are old grade school classmates)

We're Team Yukari!

— Yukari

Yay.

— Tomo & Yomi (to Yukari) [unenthusiastically]

Stop it!! You can't make demands about gifts, especially ones that aren't yours!!

— Nyamo (to Yukari)

He told me that P.E. teachers are stupid where he comes from too, how about that.

— Yukari (to Nyamo, on the foreigner only Yukari could speak with)

EDUCATION!!! In other words, it's like this yakitori! I'm the meat, and you're the green onions!! You get me!?

— Yukari (to Nyamo)

No, not at all.

— Nyamo (to Yukari)