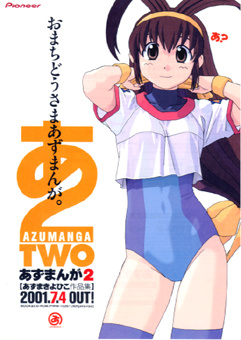 Azumanga 2: Kiyohiko Azuma Anthology 
(あずまんが2 あずまきよひこ作品集
Azumanga 2: Azuma Kiyohiko Sakuhinshū
) is an anthology by
Kiyohiko Azuma
from July 4, 2001. The anthology contains, among other things,
Try! Try! Try!
and a revised version of
Wallaby
.
[1]
Like
the previous volume
, this one also includes stand-alone art for
Battle Athletes
, 
Tenchi Muyou! 
and 
DUAL!
. It also features a CD-ROM with digital comic strips, extra artwork, screensavers and more. It was published by
MediaWorks
and Pioneer LCD. It is 93 pages long.
CD-ROM Content
References
Ad blocker interference detected!
Wikia is a free-to-use site that makes money from advertising. We have a modified experience for viewers using ad blockers

Wikia is not accessible if you've made further modifications. Remove the custom ad blocker rule(s) and the page will load as expected.