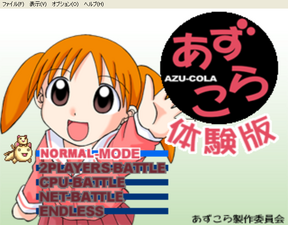 Azucola
(あずこら
Azukora
) is a fanmade PC puzzle game based on
Azumanga Daioh
that was released on December 10th, 2005 by EasyGameStation. It is only available in Japanese.
Characters
The following characters are playable.
Gameplay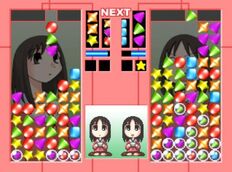 In
Azucola
, the
Azumanga Daioh
characters face each other in matches to see who wins, and it is possible to play against the computer.
Similar to Columns, you can send attacks at your opponent, like making their pieces vanish or causing additional rows of useless blocks to show up from the bottom. The characters that are being used change their facial expressions depending on the outcome of the battle. Each character has two different outfits (summer and winter uniforms for the students). The images of the characters are based on illustrations known from manga chapter title pages.
Ad blocker interference detected!
Wikia is a free-to-use site that makes money from advertising. We have a modified experience for viewers using ad blockers

Wikia is not accessible if you've made further modifications. Remove the custom ad blocker rule(s) and the page will load as expected.