Ayumu Kasuga's Mail Order Life
or
Kasuga Ayumu's Mail Order Life
(春日歩の通販生活
Kasuga Ayumu no Tsūhan Seikatsu
), also known as
Tsu-han
(a shorter version of the game's Japanese title),
Virtual Osaka
, and
The Osaka Sim
, is a fanmade interactive
Osaka
simulator from hirahira.net for PC. It is from the early 2000s. The game can also work as a screensaver. In
Ayumu Kasuga's Mail Order Life
, Osaka spends time in her room and occasionally walks out, possibly to a part-time job. Afterwards, she comes back with money used by the player to buy various items that appear on TV along with
Chiyo-chichi
. If the item is clicked, then Osaka will buy it, otherwise it disappears. The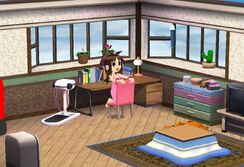 player thereafter gets to watch what she does with the items, and nothing can be done to control her during this period of time. New clothes, accessories and furniture for her room may also be purchased. Some of the items appear in the
anime
and others are random. Well-known scenes from the game include Osaka swinging a
lightsaber
(from
Star Wars
), sleepwalking, sleeping under a
kotatsu
, and walking around with the kitchen knife from
chapter 34
.
This game can conceivably take place at any point in the series, perhaps even shortly before or after it.
Ad blocker interference detected!
Wikia is a free-to-use site that makes money from advertising. We have a modified experience for viewers using ad blockers

Wikia is not accessible if you've made further modifications. Remove the custom ad blocker rule(s) and the page will load as expected.