For the script writer, see Aya Yoshinaga.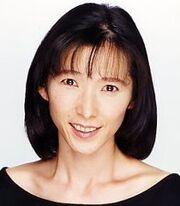 Aya Hisakawa
 (久川 綾
Hisakawa Aya
), born November 12, 1968, is the Japanese voice actor of 
Nyamo
in the
Azumanga Daioh
anime
. She is from Kaizuka, Osaka. Aside from being a voice actress, she is a J-pop singer and has released many solo CDs. She has also done voice work in video games such as
Soulcalibur
. She is best-known for voicing Sailor Mercury from 
Sailor Moon 
and Cerberus from 
Cardcaptor Sakura
. She is affiliated with Aoni Production, and for some of her roles, she gets to speak in her native Kansai dialect. Other roles of hers include 
Dragon Ball Z
, 
Moomin
, 
Magic Knight Rayearth
, 
Revolutionary Girl Utena
, 
Fruits Basket 
as Yuki Sohma, 
Love Hina
,
Kaleido Star
, 
Bleach
,
Ah! My Goddess
, 
Tsubasa: RESERVoir CHRoNiCLE
, 
One Piece 
and 
Detective Conan
. Her blood type is A, and she likes games.
Ad blocker interference detected!
Wikia is a free-to-use site that makes money from advertising. We have a modified experience for viewers using ad blockers

Wikia is not accessible if you've made further modifications. Remove the custom ad blocker rule(s) and the page will load as expected.