ASCII Media Works, Inc. (株式会社アスキー・メディアワークス Kabushiki kaisha Asukī Media Wākusu) is a Japanese publishing company in the Kadokawa Group which formed on April 1, 2008 as a result of a merger between ASCII and MediaWorks where MediaWorks legally absorbed ASCII. Despite this, the former president of ASCII, Kiyoshi Takano, became the president of ASCII Media Works. The company specializes in publishing of books, entertainment and computer magazines, manga, and video games. ASCII Media Works is known for their Dengeki (電撃, meaning electric shock) brand magazines and book imprints which include such well-known magazines as Dengeki Daioh, and Dengeki G's Magazine, along with the company's main light novel publishing imprint Dengeki Bunko.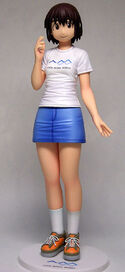 Before the merge, MediaWorks was the publisher of
Azumanga Daioh
and
Yotsuba&!
(which it continues to publish to this day as ASCII Media Works). They also published the magazine 
Game-jin
, where
Wallaby
was serialized.
Most of the company caters to the Japanese male otaku crowd, covering such topics as anime, light novels, manga, plastic modelling, and visual novels. The company also deals with computing and enterprises related to information technology (IT), such as the publication of Weekly ASCII, along with other PC and IT magazines. ASCII Media Works has also publishes multiple magazines targeted towards females such as Character Parfait, Dengeki Girl's Style, and Sylph. The company runs yearly contests for original novel and manga submissions, such as the light novel Dengeki Novel Prize contest. The company has over 300 employees, and their headquarters is in Nishi-Shinjuku, Shinjuku, Tokyo.
History
ASCII Media Works is the result of a merger between two Japanese publishing companies — ASCII and MediaWorks — on April 1, 2008. The company is a member of the Kadokawa Group and is thus affiliated with Kadokawa Shoten, another Japanese publishing company. According to an official press release by Kadokawa Group Holdings, a holding company responsible for the stock of dozens of other companies affiliated with Kadokawa Shoten, the merger stemmed from a steady outgrowth in the Internet and mobile parts of society which led publishing companies to branch out in order to encompass the ever increasing needs and demands of the consumers. Due to mutual company interests, the merger went through in order to create a stronger company which has more outreaching possibilities than either company could have done on their own. ASCII brought their expertise with IT and computing, while MediaWorks brought their expertise of media pertaining to entertainment, such as with visual or printed media including anime, manga, light novels, video games, or magazines covering such media products. In addition to making the combined company more diverse, company management is planned to become more efficient, base revenue is meant to increase, and the company may take on new business opportunities in the future. Enterbrain had been considered for merging with ASCII and MediaWorks, but this was eventually rejected. In April 2011, the video game division of ASCII Media Works was merged into Kadokawa Games along with the video game divisions of Kadokawa Shoten and Enterbrain.
As MediaWorks
The publishing company
MediaWorks, Inc.
(株式会社メディアワークス
Kabushiki-gaisha MediaWākusu
) was founded on October 15, 1992 and had its headquarters in Chiyoda, Tokyo. In addition to publishing printed material, MediaWorks was involved with the production of other media. They developed and published visual novels for popular Japanese media franchises where many different forms of media are published for a given series. Such well-known series included
Kashimashi: Girl Meets Girl
,
Shakugan no Shana
, and
Strawberry Marshmallow
. MediaWorks had also been involved in the production of anime television and original video animation series. In 1992, Kadokawa Shoten's president Haruki Kadokawa was devoting himself to the movie business, and his younger brother and vice-president of the company, Tsuguhiko Kadokawa, was in charge of magazines the company published. At the same time, Tsuguhiko was the president of Kadokawa's subsidiary Kadokawa Media Office which was in charge of publishing video game magazines like
Comptiq
, and manga magazines targeted towards the male otaku crowd in Japan along centered around "media-mix" Japanese series where many different forms of media are published for a given series. Citing differences in the interests of business direction, Tsuguhiko resigned from Kadokawa Shoten to start MediaWorks on October 15, 1992 with a large contingent from Kadokawa Shoten employees joining him.
In 1993, due to an influence from the Tokyo Shock Boys, known in Japan as the Dengeki Network (電撃ネットワーク), MediaWorks launched a series of magazines under the Dengeki line. These magazines were taken from previous publications that Kadokawa Media Office had published. The new magazines were named Dengeki Super Famicom (from Kadokawa's former magazine Marushō Super Famicom), Dengeki PC Engine (from Kadokawa's former magazine Marushō PC Engine), Dengeki Comic Gao! (from Kadokawa's former magazine Comic Comp), the now-defunct Dengeki Oh (taken from Comptiq), and the now-defunct Dengeki Megadrive (originally a special edition of Dengeki PC Engine). Also in 1993, Haruki Kadokawa was arrested for cocaine smuggling and lost his presidency at Kadokawa Shoten, which was soon taken over by Tsuguhiko Kadokawa in addition to his presidency of MediaWorks; MediaWorks was later made a subsidiary of Kadokawa Shoten in 2002. MediaWorks became a member of Kadokawa Group Holdings, and after Enterbrain became a member of the same group, Enterbrain's Famitsu line and MediaWorks' Dengeki line started to compete against each other, especially in terms of presenting information pertaining to bishōjo games. By 2001, MediaWorks specialized in publishing light novels, manga, video games, and magazines pertaining to such media. Its subsidiary was Toy'sworks.
Ad blocker interference detected!
Wikia is a free-to-use site that makes money from advertising. We have a modified experience for viewers using ad blockers

Wikia is not accessible if you've made further modifications. Remove the custom ad blocker rule(s) and the page will load as expected.